By Alex Girda, Associate Editor
Los Angeles – The Plaza Marina shopping center is expanding its palette of dining options, following a newly-inked leasing agreement. Handled by global real estate investment and services firm Kennedy Wilson, the deal was completed between landlord Quiet Lion 7, and fast casual restaurant chain Yellow Fever.
Located at 2570 Lincoln Blvd. in Venice, the Plaza Marina will be the second location for Yellow Fever, after a successful run in the South Bay. The restaurant is taking over 1,500 square feet of space for the following ten years, as part of the agreement. Its location means that the restaurant will be shadow anchored by Costco, Verizon, Starbucks and In-N-Out Burger.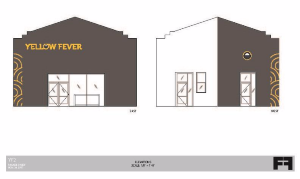 The Yellow Fever restaurant chain is owned by partners Chef Kelly Kim, Michael Kim and Jeff Nitta, who opened their first ever location at 24416 Crenshaw Blvd. in Torrance. Following the success of that location, the owners turned their focus towards the emerging Silicon Beach submarket. "The personality of Yellow Fever is a great fit for the Silicon Beach neighborhood, but we wanted to make sure that the specific location had the right characteristics to meet our long term goals." The restaurant's main draw is
Kennedy Wilson Vice President of Brokerage Michael Pakravan and Executive Managing Director of Brokerage Ed Sachse handled the leasing process on behalf of both parties.
Rendering courtesy of Fleetwood/Fernandez