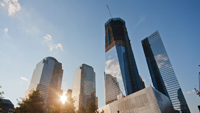 It's been 10 years since the terrorist attacks on Sept. 11, 2001, destroyed the World Trade Center and damaged the Pentagon, taking so many lives in the process. On the anniversary of the event, CPE examines what the commercial real estate industry has learned and incorporated into development and management, and takes a snapshot of how rebuilding at the World Trade Center site is proceeding.
Downtown Renaissance: The World Trade Center Anchors a Thriving Redevelopment Scene
Ten Years Later: What Have We Learned?
On the Front Lines: Property Management Gains Since 9/11