By Gail Kalinoski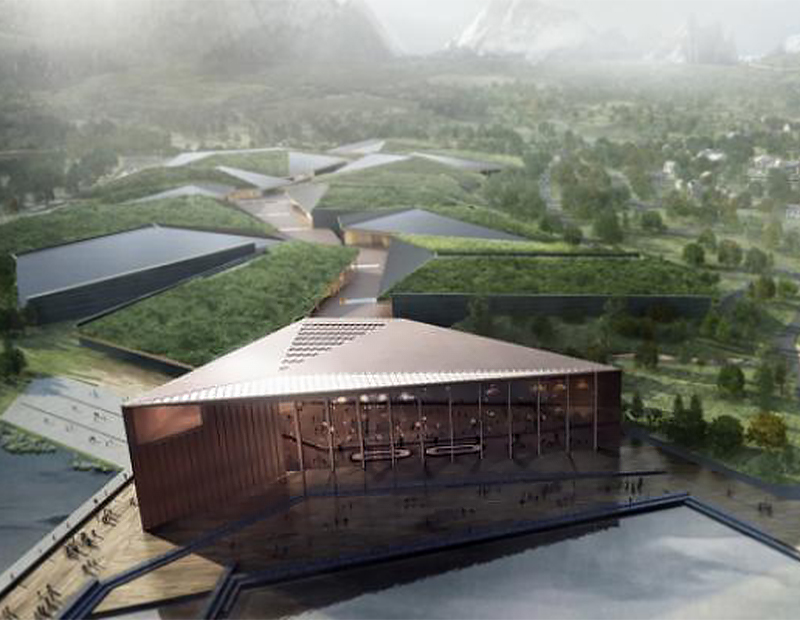 Ballangen, Norway, a town located 140 miles north of the Arctic Circle, is set to become the site of the world's largest data center as Kolos, a U.S.-Norwegian company prepares to open the first phase of the fully sustainable project by 2018.
Belonging to a new class of hyper-scale data centers, the facility will be situated in a 100 percent "green" location, with abundant hydropower and dark fiber infrastructure.
"We analyzed locations around the world and identified Ballangen as unique, due to Norway's competitive green energy, cool climate and its large technical workforce. Also the site's secure moated property and access to international high-performance fiber make it especially compelling," Havard Lillebo, co-CEO of Kolos, said in a prepared statement.
The project will stretch over 600,000 square meters (nearly 6.5 million square feet). Designed as a four-story structure integrated into the natural environment, the facility will initially draw on about 70 megawatts of power, but it will have the potential to grow to about 1,000 MW, which would make it the largest data center in the world, according to Gigabit.net.
"The team understands the importance of building the world's most powerful data center with respect for the community and environment. We can scale up to two gigawatts of excess power from hydroelectric generation facilities within 25 kilometers [nearly 16 miles] of the planned site. No data center on earth has access to such abundant, clean and inexpensive power," Mark Robinson, co-CEO of Kolos, added in a statement.
Lillebo told Bloomberg News the project will be built in several phases over many years and will be a co-location center with several thousand customers. Headwaters MB, a Denver-based investment banking firm is advising Kolos on securing the capital needed to complete the project. About $200 million to $250 million will be raised in the initial investment round with Headwaters, according to Bloomberg.
"Kolos represents a one-of-a-kind opportunity to change the data center paradigm globally. Currently, operators are hosting data center infrastructure in some of the largest, most densely populated cities across Europe, with staggering real estate and energy costs," Paul Janson, president & COO of Headwaters, said in a prepared statement.
Noting that it will be completely powered by hydroelectric and wind power, Janson called it a "game changer that will serve as a model for the industry to reduce carbon emissions and eliminate reliance on fossil fuels."
Nordic data centers
The Kolos facility would the latest Nordic data center to service major network-centric Internet companies, the firm noted. A report by data center consultancy BroadGroup said Iceland, Norway, Sweden, Finland and Denmark could see nearly $4 billion in IT investments by the end of this year. Apple is building a facility in Denmark and Facebook has two data centers in Lulea, Sweden, while Google has a site in Finland.
Here in North America, data center construction is up 43 percent from 2016, according to a new Data Center Outlook| North America report from JLL. Much of the absorption is coming from cloud adoption, the report noted, with 11 of 18 major date markets showing 30 percent or more of their user demand came from the cloud with Northern Virginia, Chicago and Austin/San Antonio in Texas in the lead. A JLL executive described data center users as "filling out their global data center footprint and making technology investments to keep them ahead in a rapidly changing industry."
Image courtesy of Kolos