By Barbra Murray, Contributing Editor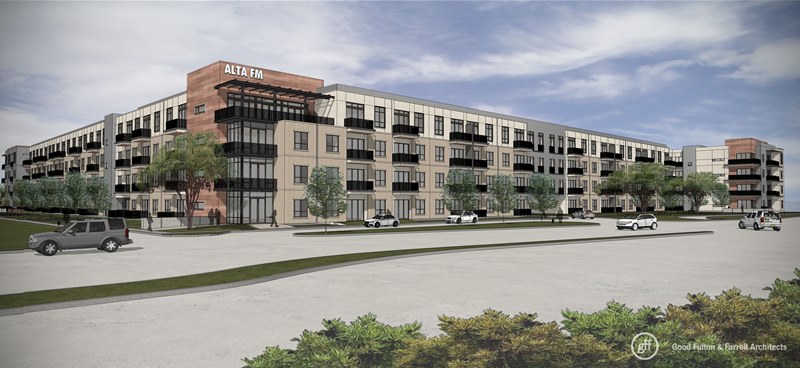 Answering the increasingly loud cry for rental accommodations in Dallas, Wood Partners L.L.C. has commenced construction on the 313-unit Alta Farmers Market project. The luxury apartment community will sprout up adjacent to the resurging Dallas Farmers Market in the city's bustling downtown area.
Wood Partners tapped the architectural firm of Good, Fulton & Farrell to design the 262,000-square-foot apartment building, which will occupy a nearly five-acre parcel on Cesar Chavez Blvd. The four-story building will feature the developer's signature offering of reasonably-priced upper scale residences in a metropolis where the demand for high-end apartments is on the rise.
"Job growth and expanding population are the key reasons why Dallas continues to be a top market for luxury multi-family housing in the nation," Ryan Miller, development associate with Wood Partners, told Commercial Property Executive. "Our project in the Farmers Market will offer the same luxury as units in Uptown, but will be at a lower price point than both Uptown and high-rise product in the CBD."
There's no shortage of new apartment properties in the pipeline in Dallas/Fort Worth. No fewer than 96 projects accounting for 26,663 units were under construction in the area as of the close of the first quarter, according to a report by commercial real estate services firm Transwestern. But Wood Partners, which is also working on projects near the Medical District and in the West Commerce corridor in Trinity Groves, is undaunted by the numbers.
"We're not seeing [overdevelopment] at this time but we are sensitive to finding sites in areas with less dense future supply," Miller said. "At some point the job and population growth will slow down, but we don't anticipate the market taking a step backwards."
The statistics support Wood Partners' stance. Per the Transwestern report, DFW occupancy rates held firm near 94 percent during the first quarter, annual rental rates rose 3.7 percent and while construction is at its highest level since 1999, the area continued to experience positive absorption.