With Tougher Times Likely, CPE 100 Find Some Cause for Optimism
The year's first survey of industry leaders reveals surprisingly split predictions.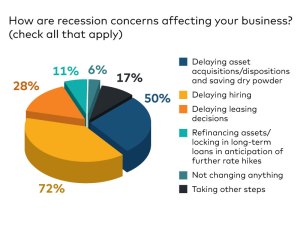 The prospect of an economic downturn is having a wide-ranging effect on how commercial real estate executives are approaching company strategy, operations and the industry's prospects this year. All is not doom and gloom, however. To a surprising degree, industry leaders find reasons for optimism, despite a largely sobering outlook.
By a considerable margin, the potential for a recession is having the greatest impact on hiring, as 72 percent of respondents said that they were delaying hiring. The poll offers further confirmation that recession concerns are hampering deal volume. Half of respondents are delaying deals and keeping their powder dry for the moment. (Because participants were invited to name multiple options, results for this question add up to more than 100 percent).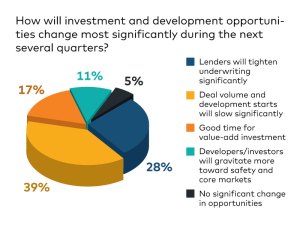 The expectation of delays is a recurring theme in the year's first survey. Nearly four in 10 believe that development starts and deal volume will decline significantly over that stretch. More than one-quarter of respondents cited tighter underwriting by lenders to be the standout trend. A smaller group, 11 percent, say that a flight to safety and core markets will be the main result of changed circumstances.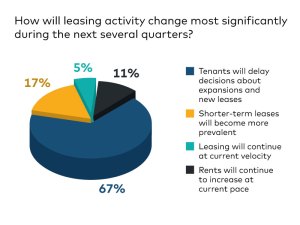 If the projections of this survey's respondents foreshadow the future, leasing volume will continue to take a hit. Tenants will delay both commitments to new leases and expanding their existing footprints, according to 67 percent of participants. Another 17 percent expect short-term leases to be more prevalent during the next few quarters.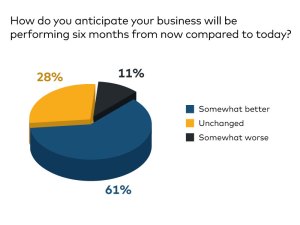 Given the concerns about the impact of an economic slowdown, however, respondents are unexpectedly upbeat about the performance of their own businesses. Sixty-one percent say they expect their business to be performing better in six months than it is today. In last year's first-quarter survey, only 23 percent predicted improved performance, while 62 percent said that they expected unchanged conditions.
A notable shift has taken place in expectations for the industry's prospects this year in the sense that more respondents foresee big change. During the first quarter of 2022, a large plurality—46 percent—agreed that the industry's health would be unchanged six months in the future.
With a possible recession in sight, a majority in the latest survey see big change ahead. Yet they are split down the middle over the direction of that change. Forty-four percent expect the industry to be somewhat less healthy, and 44 percent say commercial real estate will be healthier.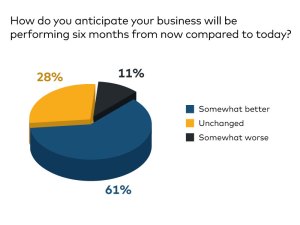 That makes it remarkable that CPE 100 members skew slightly more pessimistic about the economy than they did at this time in 2022. Last year, 23 percent said that they expected the economy to be performing worse in six months. That share ticked up to 39 percent during the first quarter. Nevertheless, the percentage of respondents who say that the economy will be doing better this year remains close to last year's—39 percent compared to 38 percent.