By Alex Girda, Associate Editor
Ocean West Capital Partners recently snatched up the property at 8942 Wilshire Blvd., known as the Wilshire La Peer Building, and will head the renovation of the building while it awaits occupancy. The official leasing agent for the office asset is local company LA Realty Partners. A new single tenant is being sought for the facility once occupancy will be available, which will most likely be in the first quarter of 2016.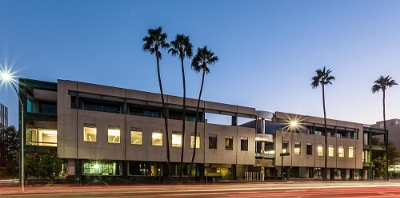 The office property totals 83,000 square feet of space. Offering a full block of street frontage in the upscale Beverly Hills submarket, the property also features an archetypical art piece by the sculptor Eric Orr surrounded by a newly renovated open-air courtyard. Following the completion of the renovations, the building's south side patio will also have an area destined for outdoor collaboration and meetings.
The property features postmodern interiors with stone, glass and stainless steel details, high ceilings and open floor plans, while skylights and floor-to-ceiling windows offer natural lighting. Parking at a ratio of 6/1000 is also available at the facility. Potential tenants will be given proximity to Beverly Hills amenities such as the La Cienega Corridor, a wide variety of retail and dining along Robertson Boulevard, as well as the Beverly Hills Triangle.
Image courtesy of Ocean West Capital Partners