By Ioana Neamt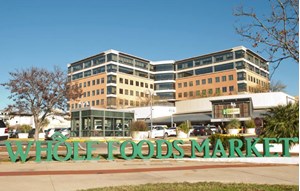 Chicago—Mayor Rahm Emanuel, alongside Whole Foods Market Co-CEO Walter Robb and community members, celebrated the opening of the company's new store in Englewood, Ill. The 18,000-square-foot store will bring more than 100 new jobs and economic opportunities to South Side Chicago, and features products from more than 35 local suppliers.
The Englewood store was first announced in 2013. Whole Foods Market worked alongside community partners from Teamwork Englewood and the Greater Englewood Corporate Development Center to prepare for the store opening.
"Today we are doing much more than opening the doors to a new Whole Foods," Mayor Emanuel said in a statement. "This store is also putting products from dozens of local suppliers on its shelves, helping turn small businesses into big businesses and creating even more economic opportunities that reach across Chicago."
Whole Foods Market operates 26 other Chicago-area stores, and recently broke ground on a 150,000-square-foot distribution center in the city's Pullman neighborhood. The company also announced it will occupy 44,000 square feet within Macklowe Properties' One Wall Street development in Lower Manhattan.
Image courtesy of the Whole Foods Market Facebook page