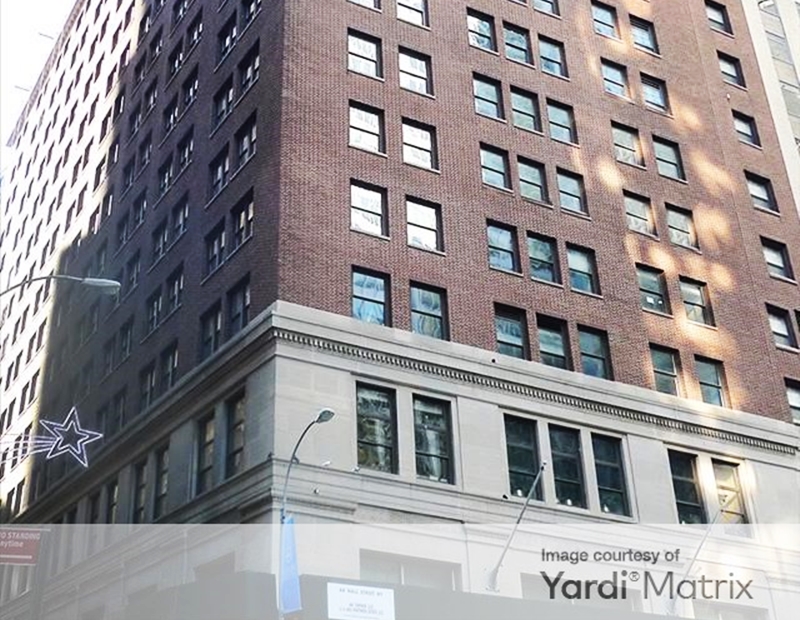 WeWork announced it has signed for 54,700 square feet of office space across three locations in Manhattan, as the island's biggest private office tenant continues its local expansion spree. The new spaces in the Midtown, Financial District and Gramercy Park neighborhoods will be used for the company's Headquarters by WeWork product, which allows member firms to set up customized private locations with their own branding and staff.
The largest of the new leases totals around 26,600 square feet at 33 E. 33rd St., a 12-story property just east of the Empire State Building. WeWork will occupy the second and third floors of the ELK Investors-owned property and plans to open the venue in June.
WeWork also took about 17,350 square feet across the 22nd through 24th floors of 44 Wall St. in the city's Financial District. The facility is slated to open this summer in the 24-story tower managed by EQ Office. The same landlord recently welcomed fashion retailer SMCP Brands and tech firm Contently to the building.
Rounding off WeWork's trio of leases is a deal for more than 10,750 square feet across the fourth and fifth floors of 7 W. 18th St., a building in Gramercy owned by George Comfort & Sons and ASB Real Estate Investments. WeWork also expects to open the location this summer.
An aggressive growth strategy
The batch of new locations "reflects the incredible demand we are seeing from medium-sized companies across Manhattan as a whole," noted Granit Gjonbalaj, WeWork's chief real estate development officer, in a prepared statement.
He added that the company now has almost 40 locations for Headquarters by WeWork and is targeting 270 locations both in the city and elsewhere by the end of the year.
The flexible office firm has now announced more than 146,000 square feet of new Manhattan leases for Headquarters by WeWork in less than two weeks. Just last week, the firm said it had grabbed nearly 45,000 square feet of space at 1410 Broadway, shortly after it inked a 47,000-square-foot lease at 145 W. 45th St. near Times Square.
All this growth is expensive. WeWork, which now has 425 locations in 100 cities around the globe, reported a net loss of $1.9 billion for 2018, larger than its revenue of $1.8 billion.