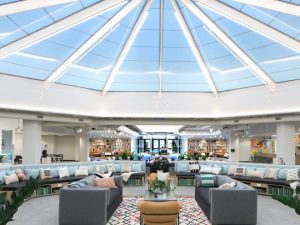 FabFitFun, a lifestyle and e-commerce membership service for women, has signed a multi-year lease with WeWork in the Green building of the Pacific Design Center in West Hollywood, Calif. The company will occupy the entire seventh floor, or 53,427 square feet, which is the total that WeWork leases in the Green building.
New York-based Cohen Brothers Realty Corp. is the owner of the 1.6 million-square-foot Pacific Design Center, CommercialEdge data shows. WeWork operates roughly 120,000 square feet of flexible office space in the Red and Green buildings of Pacific Design Center.
A CBRE team comprising Executive Vice President John Zanetos, Senior Vice President Chris Penrose, Senior Associate Phillip Ruhl and Associate Kelli Snyder represented WeWork. Cushman & Wakefield's Executive Vice President Eric Duncanson and Director Marques Williams negotiated on behalf of FabFitFun.
FabFitFun's new location at 8687 Melrose Ave. has been redesigned by WeWork into creative office space. Some of its features include podcast studios, styling suites, photo, casting and director studios, as well as a classroom. The nine-story, 450,000-square-foot Green building is approximately 13 percent vacant, according to CommercialEdge. Other tenants include a Cedars-Sinai medical office, InvestCloud, NVE, Poletus, Dailey, among several others.
According to its website, the 14-acre Pacific Design Center is home to more than 100 showroom brands, from interior design to architects and decorators. The Blue and Green buildings each have a 550,000- and 200,000-square-foot showroom component, respectively. Pacific Design Center is situated less than a mile South of Santa Monica Boulevard, in a highly amenitized area of West Hollywood.
Constructed in 1988, the Green building was the second one to be added to Pacific Design Center, 11 years after the initial 750,000-square-foot Blue building opened. According to CommercialEdge data, Cohen Brothers Realty acquired Pacific Design Center in 1999, for $165 million. The Blue and Green buildings received a cosmetic renovation in 2000, while the Red building, totaling 400,000 square feet, was constructed in 2012. The mixed-use campus was designed by architect Cesar Pelli.
Flexible office demand
CBRE's Zanetos noted in a prepared statement that the transaction was indicative of the increasing demand for flexibility in a post-COVID-19 environment. Despite being negatively affected in the short-term, flexible spaces will play a key role in the recovery of the office market, CBRE research shows. In a survey of 126 senior-level global real estate executives, conducted in September of last year, 86 percent of respondents anticipated that flexible office would play a role in their long-term strategies.