By Barbra Murray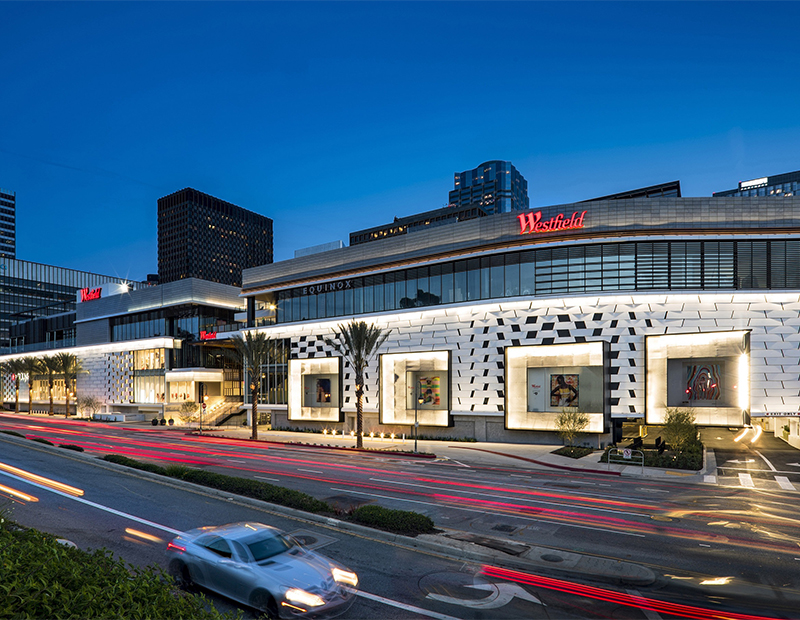 Westfield Century City is ready for its close-up. Wrapping up a $1 billion redevelopment program, Westfield Corp. will present the newly modernized, 1.3 million-square-foot Los Angeles shopping center to the public with a grand opening on October 3.
"Century City will change the face of retail, leisure and entertainment for the west side of LA," Westfield Corp. co-CEO Steven Lowy said during the company's earnings conference call on February 23, 2017.
Westfield added 422,000 square feet of retail space to Century City. Nordstrom grabbed some of the extra square footage and will swing open the doors of its three-level, 149,000-square-foot store on the big day. Most of the mall's approximately 200 stores will be open for the ceremony, as will the Atrium, an 18,000-square-foot entertainment and events venue. The new outdoor plazas and landscaped terraces will also be available to visitors.
It was an extensive undertaking. The Century City redevelopment also increased parking capacity by 50 percent. Additionally, Westfield has instituted a guest services and hospitality program for visitors. The open-air shopping center, located on Los Angeles' Westside, has gone totally Hollywood; it will also provide a studio services platform designed to unite retailers with the entertainment and music industry's fashion stylists and costume designers. And if Century City doesn't attract enough attention with its new retail, entertainment offerings and the like, it will likely turn heads with one particular amenity: Uber. Century City will be home to the first permanent Uber Lounge in the world and multiple new Uber stations.
The grand opening comes two years after Westfield commenced Century City's redevelopment, which carried an original price tag closer to $800 million, and 15 years after the company moved from co-owner to full owner of the property with the acquisition of CalPERS's 50 percent stake.
Development irons in the fire
Century City is just days away from its big reveal, but Westfield's work is hardly done. The company is in the midst of revamping a handful of the 35 U.K. and U.S. shopping centers in which it has interests. Westfield is investing $300 million at its new $1.5 billion Westfield World Trade Center in Manhattan; $300 million at Westfield UTC in San Diego; £300 million at Westfield London; and $550 million at Valley Fair in San Jose, Calif.
"The world is evolving right now and we are going through a process of transforming and not just redeveloping these assets to create much better experiences and scale and the like that's going on at Century City, Valley Fair, UTC, London, etcetera, but we're also very, very focused on internally remerchandising the malls so they remain current and relevant," Lowy said during the earnings call.
Image courtesy of Westfield