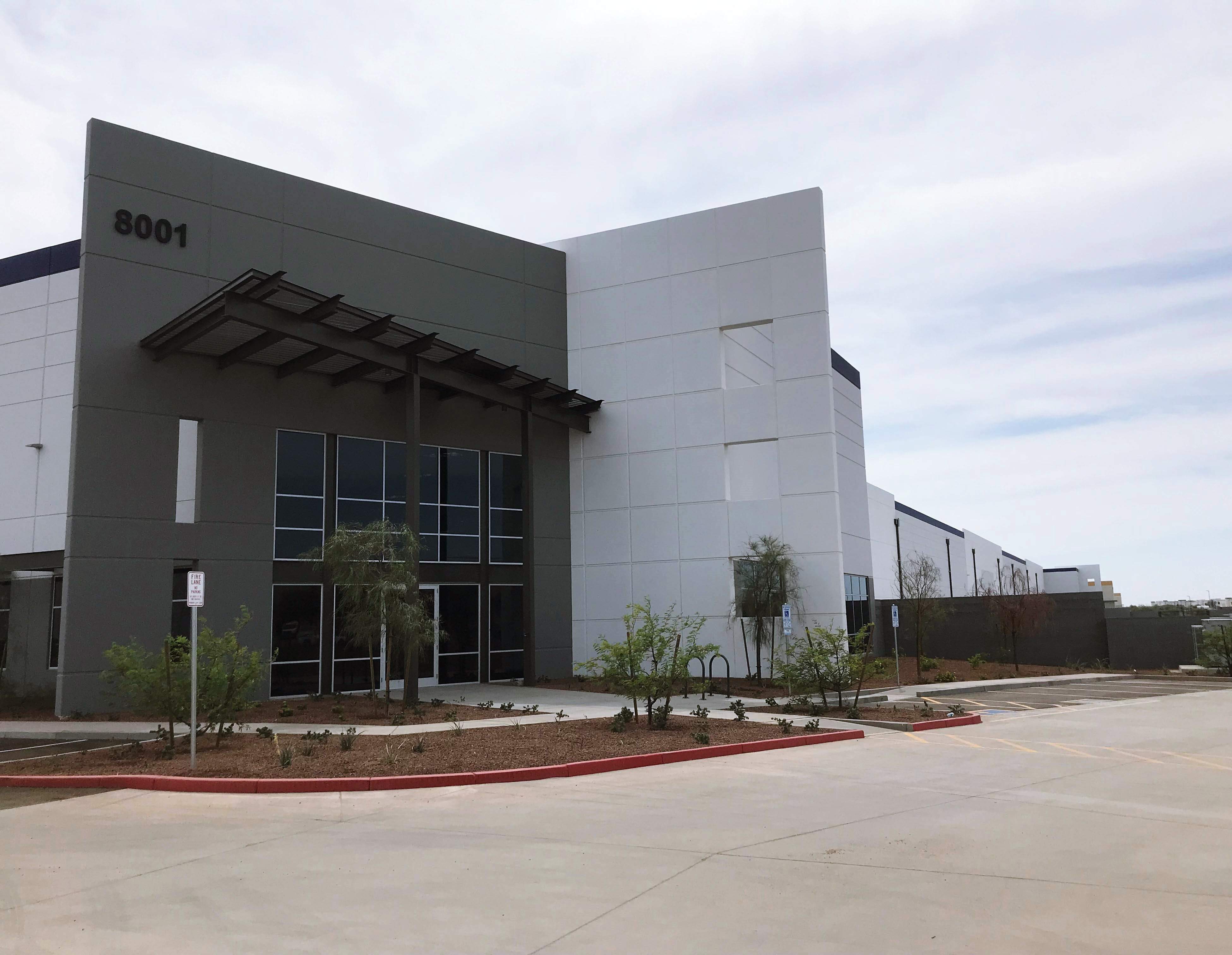 Westcore Properties has added a Phoenix-area speculative industrial building to its portfolio with the acquisition of West 80 in Tolleson, Ariz. The company acquired the brand-new 379,800-square-foot property from a joint venture of Wentworth Property Co. and private real estate fund managed by Crow Holdings Capital.
---
READ ALSO: Compass Datacenters Begins Construction of Phoenix Campus
---
Seller Wentworth only recently completed development of West 80, a Butler Design Group-designed building sited on 22 acres. Westcore doesn't make a habit of pursuing assets that are in the construction stage, so the decision to make a bid for the property, located at 8001 W. Buckeye Road, was an uncharacteristic move for the firm.
Cushman & Wakefield's Will Strong, charged with marketing the property to a limited audience on the seller's behalf, brought the opportunity to the buyer. Westcore has tapped the Cushman & Wakefield team of Mike Haenel, Andy Markham and Phil Haenel to spearhead leasing of West 80, which can accommodate a single user or as many as three tenants. The new owner plans to waste precious little time prepping the property for immediate occupancy by instituting certain improvements, including the build-out of 3,800 square feet of office space.
Buy some, sell more
Year-to-date, 2019 has not been Westcore's most acquisitive period—and that is how the company planned it. "We are certainly a net seller for 2019 and we've been very focused on selling some assets that were in the first fund that we are in the process of closing out," Hack Adams, senior vice president with Westcore, told Commercial Property Executive. "But we are very bullish on the Western U.S. industrial market and we'll be cranking up the acquisitions machine again in late 2019 and into 2020."
It remains a fine time to invest in the industrial sector, not just in the Western U.S., but across the country. According to a second-quarter report by Cushman & Wakefield, net absorption in the national industrial sector is on track to exceed 200 million square feet for a sixth consecutive year in 2019, with demand for all product types growing in all regions.