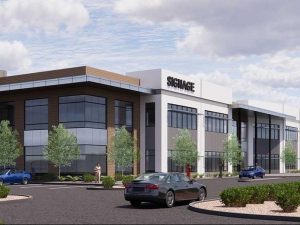 Wentworth Property Co. has revealed plans to develop Goodyear Medical, a 57,000-square-foot medical office project in Goodyear, Ariz. Construction is slated to begin in the fourth quarter of 2021, with completion expected a year later.
The two-story development will take shape at 1830 NE Bullard Ave. within the 2,500-acre Goodyear Medical Innovation Corridor. Designed by Vertical Design Studios, the building will feature a mix of concrete, wood and metal finishes. Covered and surface parking will be available, at a ratio of 6 spaces per 1,000 square feet.
Upon completion, the facility will be the first medical office building to be developed in the Goodyear area since 2004, according to Alexandra Loye, senior vice president of Colliers. Loye, together with Colliers Executive Vice President Phil Wurth, serve as the property's exclusive leasing agents. The duo is also in charge with the leasing efforts at a 58,600-square-foot medical office building anchored by The CORE Institute in Gilbert, Ariz.
Situated just north of Interstate 10, the 4.9-acre development site is some 19 miles from downtown Phoenix and 3 miles northeast of downtown Goodyear, in the West I-10 submarket. Abrazo West Campus hospital is less than 2 miles east.
Larger rental rates
According to the property's presentation, Goodyear Medical leases for $25.50 per square foot. Recent Colliers research shows the asking rate is higher than the average $22.92 recorded in the metro at the end of 2021's first quarter, but lower than the average $26.60 recorded in the West I-10 submarket in the same period.
The Colliers report also indicates a rise in medical office rental rates all across the Valley. The Midtown/Phoenix submarket had the largest year-over-year increase, rising 10.7 percent to $22.43 per square foot, followed by Chandler and Downtown North submarkets, which increased by 9.7 percent to $20.45 and 9.0 percent to $21.58, respectively.
Little medical office construction
Only three medical office projects, totaling about 385,000 square feet, were under construction across the metro as of June, according to CommercialEdge information. The largest development is the 275,157-square-foot Phoenix VA Outpatient Clinic, also slated for a 2022 completion.
According to Colliers, no new product was delivered during the first three months of 2021, a first over the last five quarters.