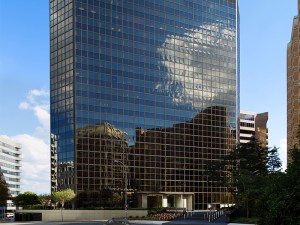 WashREIT is accelerating its transformation into a multifamily REIT focusing on the Southeast, as it continues to shed more of its office properties. The REIT has entered into a definitive agreement to sell 12 office assets in the Washington, D.C., metro area, including six in Northern Virginia, to a Brookfield Asset Management private real estate fund for $766 million.
---
READ ALSO: Mack-Cali Sells Last Suburban Office Portfolio for $84M
---
The portfolio, totaling nearly 2.4 million square feet, represents most of the REIT's office holdings. After the transaction closes, likely in the third quarter, WashREIT will only own Watergate 600, a Class A, 295,000-square-foot office building at 600 New Hampshire Ave. NW, in Washington, D.C. The company intends to eventually dispose of that property and will then become a 100 percent pure-play multifamily REIT. It acquired the 12-story office property within the Watergate complex in April 2017 for about $135 million.
WashREIT also signed a letter of intent to sell its remaining retail assets and expects to complete this sale in the third quarter as well. No further details were available on the retail transaction.
Paul McDermott, president & CEO of the Washington, D.C.,-based REIT, said in a prepared statement the pending sale to the Brookfield Asset Management fund is the most significant milestone to date in the transformation of the company to a multifamily REIT.
"This transaction, along with sourcing multifamily expansion opportunities and our retail sales processes, signals our belief that the multifamily asset class is the best vehicle to harness long-term growth for our investors," McDermott stated.
He noted the pending sale of the office and retail assets will strengthen the REIT's balance sheet and eliminate near-term debt maturities until 2023. McDermott said it will also give WashREIT the resources to expand its multifamily efforts in Southeastern markets. The company is targeting expansion into the high-growth markets of Atlanta and Raleigh-Durham and Charlotte in North Carolina. The REIT already owns 21 multifamily assets in the D.C. metro area and plans to invest about $450 million this year on growing the multifamily portfolio.
Office sales
In December, WashREIT closed on the $106.5 million disposition of two office properties totaling 344,346 square feet in the D.C. metro region—Monument II at 12590 Worldgate Drive in Herndon, Va., and 1272 25th St. NW., in Washington, D.C.
The 12-property portfolio under contract consists of six office buildings in Washington, D.C., and six in Northern Virginia. As of May 31, the portfolio was about 83 percent occupied.
The Washington, D.C., properties are: 1901 Pennsylvania Ave., 101,000 square feet; 1220 19th St., 103,000 square feet; 2000 M St., 34,000 square feet; 1140 Connecticut Ave., 184,000 square feet; Army Navy Building, 108,000 square feet; and 1775 Eye St., 189,000 square feet.
One of the Virginia properties is Silverline Center, a 552,000-square-foot office building in Tysons, Va. Three are in Arlington, Va.—1600 Wilson Blvd., 171,000 square feet; Fairgate at Ballston, 144,000 square feet; and Arlington Tower, 389,000 square feet. Two of the office assets are in Alexandria, Va.—505 King St., 75,000 square feet, and Courthouse Square, 121,000 square feet.
JLL served as WashREIT's exclusive real estate advisor in connection with the office and retail portfolio sales. Goldman Sachs & Co. LLC is serving as exclusive strategic financial advisor to the company.