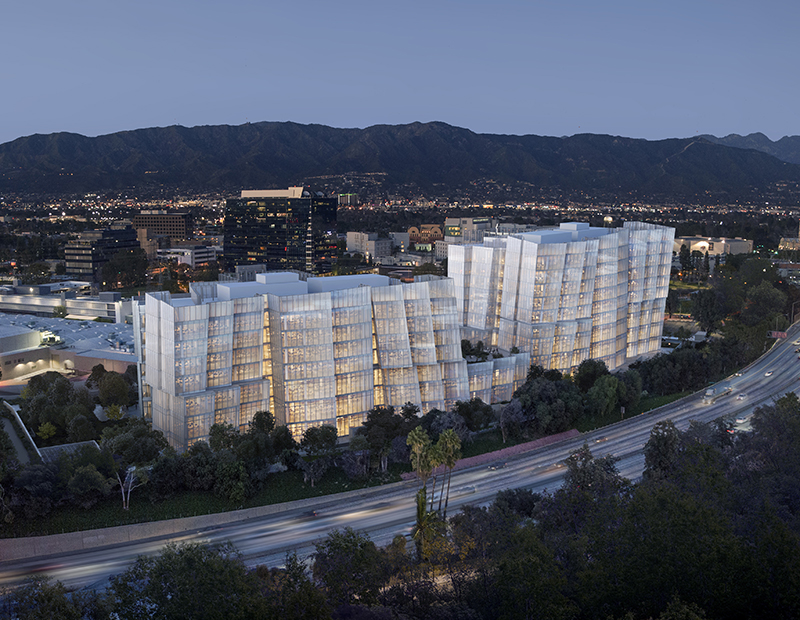 Warner Bros. is expanding into two Frank Gehry-designed office buildings totaling 800,000 square feet that will be constructed adjacent to its main lot in the Burbank Media District in Burbank, Calif., by a partnership of Worthe Real Estate Group and Stockbridge Real Estate Fund.
As part of the deal, the global entertainment and media company will buy The Burbank Studios property, except for the land where the Gehry buildings will be located, from Worthe and Stockbridge. That transaction will give Warner Bros. additional production office space and soundstages—with room for expansion—as well as a mill building and commissary.
A complex agreement
The groundbreaking for the two office buildings—a seven-story, 355,000-square-foot building and a nine-story, 445,000-square-foot building—will take place in the fall with construction of both phases expected to be completed by 2023. Warner Bros. will move into the first building in 2022 and into the second in 2023 to coincide with the studio's centennial celebration.
The complex transaction also calls for Warner Bros. to sell three office buildings—the Triangle Building at 4001 West Olive. Ave.; the Glass Building at 3903 West Olive Ave.; and the Wood Building at 111 N. Hollywood Way—to Worthe and Stockbridge in a sale-leaseback deal later this year. Warner Bros. employees will occupy those spaces until 2023, when the new buildings are ready. In 2023, Warner Bros. will also sell the 30-acre Warner Bros. Ranch on Hollywood Way to Worthe and Stockbridge and the purchase of The Burbank Studios will be finalized.
"This is an opportunity to reimagine not only our workspace but our future," Kim Williams, Warner Bros. executive vice president & CFO, said in a prepared statement. "Along with our historic lot, the newly expanded campus will fuel increased creativity, facilitate collaboration and help us attract and retain the world's best and most diverse talent. It will also better position our company for the future and provide for more production capacity."
Jeff Worthe, president of Worthe Real Estate Group, noted the firm had a partnership with Warner Bros. dating back more than 30 years.
"We are thrilled to deliver these iconic buildings to Burbank and can't think of a better way to honor Warner's past 100 years and celebrate their exciting future," Worthe said in prepared remarks. "We will add these buildings to our existing portfolio of outstanding office properties that covers more than 4 million square feet in the City of Burbank alone."
Architectural significance
Gehry Partners LLP, a world-renowned architecture firm located in Los Angeles, has more than 20 buildings designed by Frank Gehry in the Los Angeles area, including the Walt Disney Concert Hall completed in 2003 at 111 S. Grand Ave. In February, construction on The Grand, a $1 billion mixed-use project developed by Related Cos. and CORE USA and designed by Gehry began with an official groundbreaking at the downtown LA site. When completed in 2021, The Grand will have more than 176,000 square feet of retail; a movie theater complex; a 309-key Equinox Hotel; 400 apartments, including 20 percent set aside as affordable units; and a large public plaza.
For the new Burbank project, Gehry said he wanted to recapture the feeling of old Hollywood splendor during a time when studios were important architectural presences.
"We wanted to create a 21st century vision that would have a strong and unique identity for Jeff Worthe and for Warner Bros. in the center of Burbank," Gehry said in a prepared statement. "We created large open floor plates with the single goal of creating the highest quality office space. From the freeway, the buildings are composed as one long sculptural glass façade that creates a single identity like icebergs floating along the freeway. On the studio side, the metal punched faced is terraced to relate to the scale and character of existing studio buildings."
More entertainment leasing
Earlier this month, HBO announced it would lease the entire 240,000-square-foot office building being constructed within the $350 million Ivy Station mixed-use development in Culver City, Calif., for its new corporate headquarters. The premium cable network will move from Santa Monica, Calif., in early 2021.
Lowe, AECOM-Canyon Partners and Rockwood Capital are developing the 500,000-square-foot Ivy Station project that will include 200 apartments, 50,000 square feet of retail and restaurant space, a 148-key hotel, 2 acres of public open space and 1,500 parking spaces. Construction began in August 2017 and is expected to be finished by mid-2020.