By Gail Kalinoski, Contributing Editor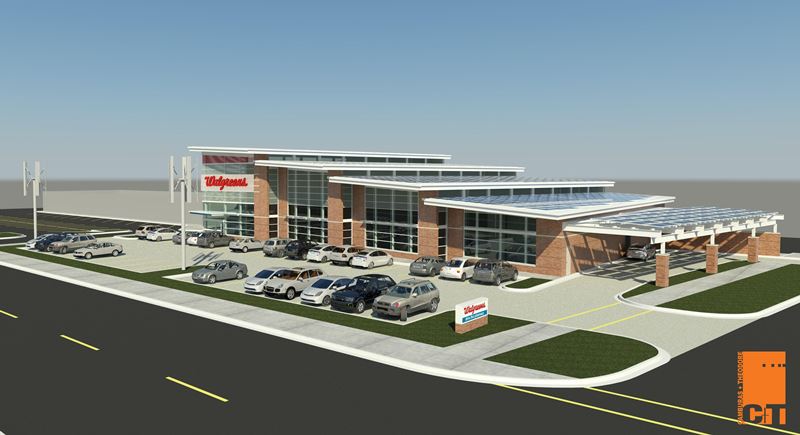 Walgreens is building a net-zero energy store in Evanston, Ill., that will use solar and wind power, geothermal heating and cooling and other energy-saving technologies to generate electricity and reduce its usage by more than 40 percent.
The announcement from the nation's largest drugstore chain comes in the same week that Walmart said it had placed solar panels on 12 Walmart stores and Sam's Clubs throughout Ohio.
For both companies this week's news is just the latest of many green initiatives they and other companies are using in their buildings. Walgreens has said it wants to reduce its energy consumption 20 percent chain-wide by 2020. Walmart's goal is to eventually use renewable energy for all its power needs.
"We are investing in developing a net-zero store so we can learn the best way to bring these features to our other stores. Because we operate 8,000 stores, we believe our pursuit of green technology can have a significant impact on the nation's environment," Thomas Connolly, Walgreens vice president of facilities development, said in a company release.
The Evanston store is located at the intersection of Chicago Avenue and Keeney Street, where the company is demolishing an old Walgreens store. The location is close enough to Walgreens' headquarters in Deerfield, Ill., so engineers can keep a close eye on the building and see if it reaches its goal of net zero energy use.
The company's plans for the store include installing 800 rooftop solar panels and two wind turbines. Engineers will drill down 550 feet into the ground to obtain geothermal energy for heating or cooling. Energy efficient building materials will be used along with LED lighting and carbon dioxide refrigerants for heating, cooling and refrigeration equipment. They are hoping the store will generate 265,000 kilowatt hours per year and only use about 200,000 kilowatt hours.
Walgreens is aiming to have the store achieve LEED platinum status, the most stringent designation given by the U.S. Green Building Council. For the past year, the chain has worked with the city of Evanston and vendors including Trane, CREE Lighting, Acuity Lighting, Cooper Lighting, CalStar Products, GE Lighting, Geothermal International, SoCore Energy, Wing Power and Camburas and Theodore Architects.
Walmart worked with SolarCity to put 12 solar installations atop stores in Ohio – Austintown, Fairfax, Franklin, Greenville, Loveland, Middletown, Milford, Toledo, Xenia, Youngstown and two in Cincinnati. The company said each installation should provide between 10 and 15 percent of each store's total projected electricity needs. The stores are expected to save a combined total of 5,500 metric tons of carbon dioxide emissions, equivalent to taking 1,100 cars off the road.
"Walmart's installation of solar on 12 store rooftops is the largest solar commitment ever made by a retail business in Ohio," Bill Spratley, executive director of Green Energy Ohio, said in a Walmart news release.
A month earlier, Walmart also installed solar panels on three stores in Hawaii, doubling the number of Walmart stores powered by solar energy in the state.
Both Walmart and Walgreens made the Solar Energy Industries Association's list of the top 20 commercial solar customers in the United States. Walmart placed first on the list published in November, with 65,000 kilowatts of solar energy installed at its properties. Walgreens came in at No. 10 with 8,163 kW. Others on the list include Costco Wholesale at No. 2 followed by Kohl's department stores; IKEA; Macy's; McGraw Hill; Johnson and Johnson; Staples, Inc.; and Campbell's Soup.
Walmart placed first and Walgreens second in the group's list of total number of solar energy systems installed by companies. Walmart had 144 and Walgreens had 134, as of November.
The SEIA report notes that the falling cost of solar energy has encouraged American businesses to make the investments. The survey looked at 42 companies finding that they had installed at least 321 MW (megawatts) of solar capacity at more than 750 locations in at least 26 states and Puerto Rico. The group expects that number to keep climbing as more companies realize "solar provides predictably priced electricity for 20 to 30 years," often making it more cost-effective than buying electricity from the local utility.