By Barbra Murray, Contributing Editor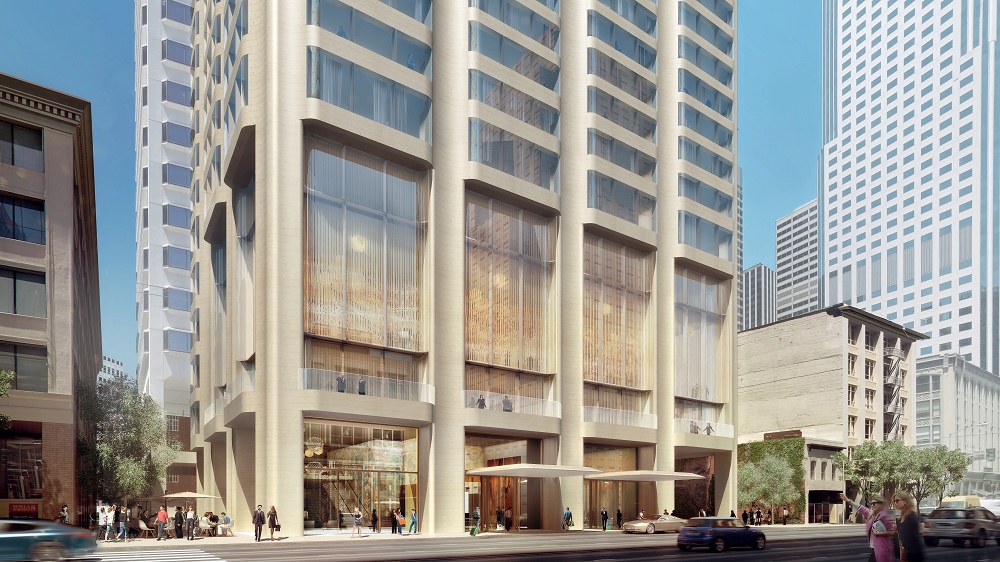 San Francisco—Waldorf Astoria Hotels & Resorts has announced plans to expand its presence to Northern California with the development of Waldorf Astoria San Francisco. The 170-key luxury hotel will be the jewel in the crown of the $1.7 billion, two million-square-foot Oceanwide Center mixed-use project being developed by China Oceanwide USA Holdings Co.
The Waldorf will span 21 floors of Mission Street Tower, one of two high-rises that will comprise the Foster + Partners-designed Oceanwide development, located in the new neighborhood sprouting up around the $6 billion Transbay Transit Center project in the SoMa submarket. The hotel certainly has the all-important location factor in its favor.
"SoMa hasn't been home to luxury hotels traditionally, so such a property would be new to the market and would fit in with the brand new, Class A commercial real estate development activity occurring in SoMa right now," Aaron Solaimani, a senior project manager with hotel consulting services firm HVS, told Commercial Property Executive. "And San Francisco is still one of the leading cities in terms of destination hotels and overall market supply and demand trends."
Local officials are keen on the idea of a new luxury hotel at the 1.4-acre First and Mission streets property, which Oceanwide acquired for $296 million in early 2015. In a document authorizing a conditional use request by Oceanwide, the San Francisco Planning Commission contended that a lodging offering at the site would complement the cultural institutions and retail options that make San Francisco a leading tourist destination. Additionally, the commission noted, "Market conditions clearly support the need for new hotel stock, particularly in the luxury hotel range that would appeal to both tourists and business travelers."
The location is right for the new Waldorf, and it appears the timing is right as well, despite certain concerns about the impact the temporary closing of the Moscone Convention Center will have on the market. The meeting facility is undergoing a $500 million renovation and expansion, and is scheduled to reopen in 2018. Solaimani dismissed notions of any permanent damage to the market, saying "Demand is not going to be displaced, just deferred."
Waldorf Astoria Hotels, which is a luxury brand under the Hilton Worldwide umbrella, is in a California state of mind. The 170-key Waldorf Astoria Beverly Hills is presently under construction and on track to reach completion in 2017, and the Palm Spring area's 796-key La Quinta Resort & Club, a Waldorf Astoria Resort, emerged from a multi-million-dollar renovation in late 2014. The San Francisco property will be Waldorf Astoria Hotels' third location in the Golden State.