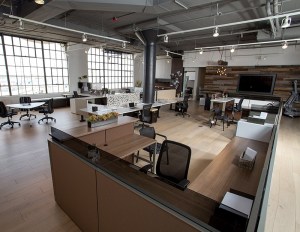 Ready to put the pandemic in the rearview mirror, most office-using companies are finally feeling comfortable with the idea of making long-term plans for their office portfolios, according to CBRE's Spring 2022 U.S. Office Occupier Sentiment Survey.
It appears a widespread desire to accommodate a hybrid workstyle will drive the decision-making for many industries, including tech, which added more office-using jobs than any other industry since the start of the COVID-19 pandemic in the spring of 2020.
Two years of a predominantly remote-work lifestyle have left the 185 CBRE-queried companies—U.S. entities of various sizes—determined to do anything but remain stagnant.
"Most are now wholly focused on how to demonstrate the value of the office to their employees," as noted in the CBRE Spring 2022 Occupier Sentiment Survey report. Only 9 percent of respondents intimated that they would maintain the same office portfolios over the next three years, marking a notable drop from the 2021 survey figure of 27 percent.
---
READ ALSO: How Designers Put Natural Materials to Work in the Office
---
The portion of companies that plan to increase their square footage over the next three years, mostly for the purpose of adapting to hiring and business growth, increased from 29 percent in 2021 to 39 percent.
On the flip side, 52 percent of participants indicated that they plan to reduce their office space over the long term, compared with 44 percent in 2021. That is, however, a significant change from the early days of the pandemic, when a whopping 84 percent of respondents claimed they would cut their footprints.
The tech industry, which is responsible for 51 percent of the 727,000 office-using jobs created from February 2020 to February 2022, hasn't been quite as active in the office sector in the last couple of years, having gone from signing 73 million square feet of new leases in 2018 and 2019 to just 48 million square feet in 2020 and 2021, according to CBRE's April 2022 Tech Insights Research report. Despite the obvious reduction, however, the tech industry is just as keen on office space as ever and will serve as a driving force in office trends and demand.
"I would say that most market sectors take a look at what tech is doing as almost a harbinger of what's to come," Albert De Plazaola, a senior principal with global strategy-design-build firm Unispace, told Commercial Property Executive. "Tech is typically a market sector that does take risks around this kind of stuff, not just office space but around technology and other sorts of things."
Clocking in
The new survey observed a growing acceptance of remote work. Seventy-three percent of respondents plan to incorporate some weekly form of partial remote work/partial office work for their employees, compared to 62 percent in 2021.
Only 19 percent will insist that employees work from the office 100 percent, a decrease from the 28 percent who required full-time office-based work last year. Looking at the big picture, 85 percent of survey participants prefer that employees spend a minimum of half of their time working in the office, which is a sign of the times and good news for the office market.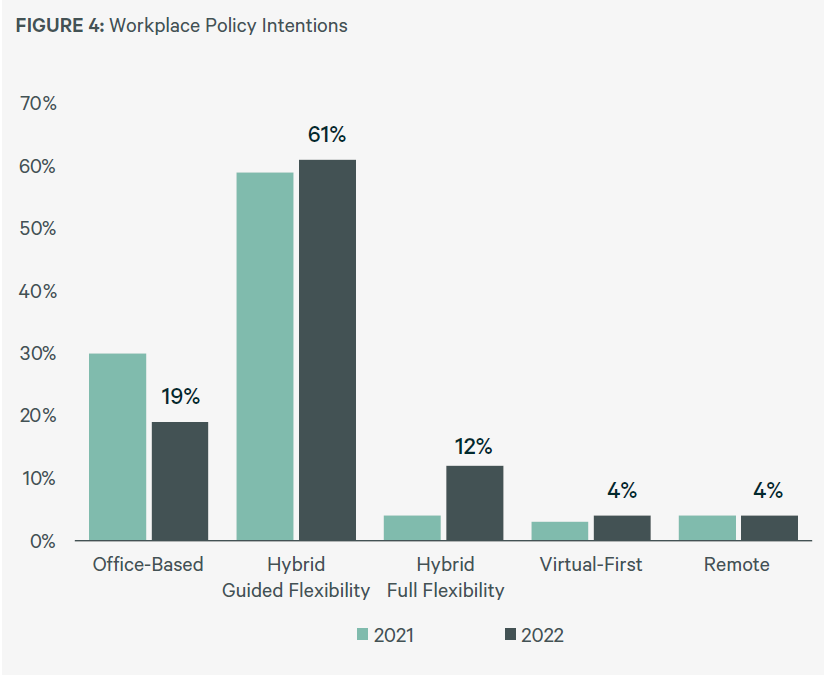 Meanwhile, the tech sector has fully embraced the hybrid model. "I don't know of any tech organization that is mandating full-time, back-into-the-office protocols and I think for the ones that have, you've seen almost like an employee revolt or what I call a proletariat uprising," De Plazaola said.
For tech firms, it's all about the software engineers. "Tech firms are in a war for talent so they will accommodate," De Plazaola added. "They want to keep their engineers happy. Engineers do want to come back to the office, but they want to make that call. They don't want to be told by corporate."
The look of hybrid
The hybrid work model is already having an impact on office design. According to the CBRE Occupier Sentiment Survey, companies are well aware that they will have to take on a new approach if they are to succeed in luring employees back to the office and convincing them to make regular appearances. Therefore, respondents noted that they are focusing on bolstering collaboration through cultivated layouts and technology, as well as creating clean and healthy environments.
Sixty-five percent of survey respondents chose flexible open space as the most-favored building amenity, and 76 percent pointed to enhanced video conferencing as the most-favored office technology. The latest studies suggest that these employers have their fingers on the pulse of employees' desires.
"Research is indicating a couple of things and maybe those game rooms and huge cafeterias that serve oysters and bone marrow aren't really the way to attract people to come back in," De Plazaola said. "I think what people are looking for are just really good work facilities where they can collaborate because for a lot of those people, while they can do their focused work at home, it's tough because they have to make lunch for the kids, or the Amazon guy is at the door. I think what people are looking for are really good quality teaming and collaborative areas, alongside areas where people can single-task and focus in ways they can't at home."
Read the full report by CBRE.