Vulcan Sells Kilroy $170M, 321 KSF Office Property
Vulcan Real Estate and Group Health Cooperative have sold Westlake Terry, a two-building, 321,000-square-foot office property in Seattle's South Lake Union submarket for about $170 million to Kilroy Realty Corp. of Los Angeles.
By Gail Kalinoski, Contributing Editor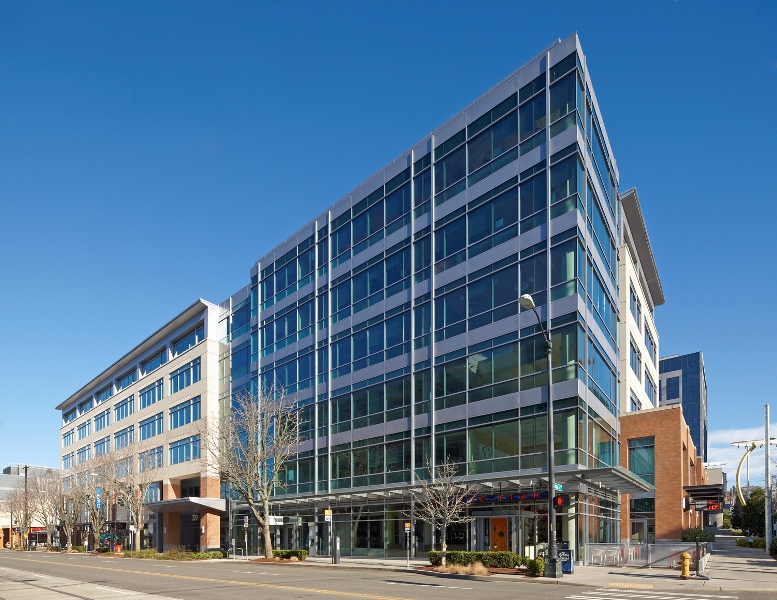 Vulcan Real Estate and Group Health Cooperative have sold Westlake Terry, a two-building, 320,399-square-foot office property in Seattle's South Lake Union submarket for about $170 million to Kilroy Realty Corp. of Los Angeles.
As part of the acquisition, Kilroy assumed an in-place loan of approximately $84 million with an interest rate of 6.05 percent, the firm noted in its announcement.
The property, which is LEED Gold certified and is fully leased, takes up a full city block at 320 Westlake Ave. North and 321 Terry Ave. North. The Group Health Cooperative and Microsoft Corp. rent more than 85 percent of the property. Group Health occupies about 149,000 square feet and has approximately 70 employees at the site, which is its corporate headquarters. Microsoft leases about 126,000 square feet and has nearly 350 employees there.  The property, built in 2007, also has 42,750 square feet of retail space with tenants such as Rain Fitness, Starbucks, Portage Bay Café and Flying Fish.
The JV partners, who listed the property in August, decided the timing was right to sell. Group Health will be redeploying proceeds of the sale into its core health business and Vulcan plans to use the capital for more South Lake Union development projects. Over the last several years, Vulcan, an investment firm founded by Paul Allen, has been reshaping the neighborhood that had been predominantly home to light industrial businesses into a thriving submarket with offices, biotech labs, apartments, condominiums, shops and restaurants. The firm has built about 5 million square feet of space in South Lake Union worth at least $2.3 billion. Vulcan expects to complete another 600,000 square feet of space this year and has another 570,000 square feet in pre-development planning.
Vulcan also made news late last year when it sold the 11-building, 1.8 million-square-foot  Amazon.com headquarters in South Lake Union to Amazon for $1.16 billion. It was the largest U.S. office sale of the year, according to Real Capital Analytics.
For Kilroy, the acquisition of the Westlake Terry property was another purchase it has made in Seattle, which has become an increasingly important part of the firm's portfolio. Kilroy now owns about 2.1 million square feet of Class A office space in the Puget Sound regions, including the Eastside submarkets of Bellevue, Kirkland and Redmond, and the South Lake Union submarket of Seattle, according to Mike Shields, senior vice president of Kilroy's Pacific Northwest region. He said the portfolio now represents about 13 percent of Kilroy's overall annual net operating income on a pro forma basis.
"Westlake Terry encompasses all the compelling characteristics that we seek to include in our portfolio – strong submarket fundamentals, adjacency to transportation and abundant amenities as well as proximity to an anchor corporate user," John Kilroy, Jr., the firm's CEO and president, said in a statement. "In today's environment where core pricing has been extremely aggressive, it is our platform and franchise that have provided us with a competitive advantage to allow us to unlock the value of this acquisition and achieve an in-place cap rate in the mid 6 percent range on a fully-leased premier asset."
 In June, Kilroy added three South Lake Union buildings to its portfolio with the acquisition of two office properties for $145 million. In two separate transactions, Kilroy acquired Fremont Lake Union Center, a two-building asset with 297,000 square feet of space, from Metzler North America Corp. for $107 million, and Fremont Lake View, a neighboring 11,304-square-foot office building, from Stockbridge Capital Group for $39 million.
A month later, Kilroy continued its Puget Sound buying spree when it purchased Skyline Tower, a 24-story, 417,000 square-foot office tower in Bellevue, for $186 million from Beacon Capital Partners.
Kilroy, which had a very active 2012 with several high-profile acquisitions and development projects announced, particularly in Silicon Valley and San Francisco, will continue to seek out opportunities in the Puget Sound area. South Lake Union, which is north of downtown Seattle and has the lowest Class A office vacancy rate in the city, is an area the company believes in.
"We expect South Lake Union to continue to be a vibrant, highly desirable market that offers all the amenities and a quality of life that tenants seek, evidenced by the growing corporate user base in the market," Shields said in a statement.