By Barbra Murray, Contributing Editor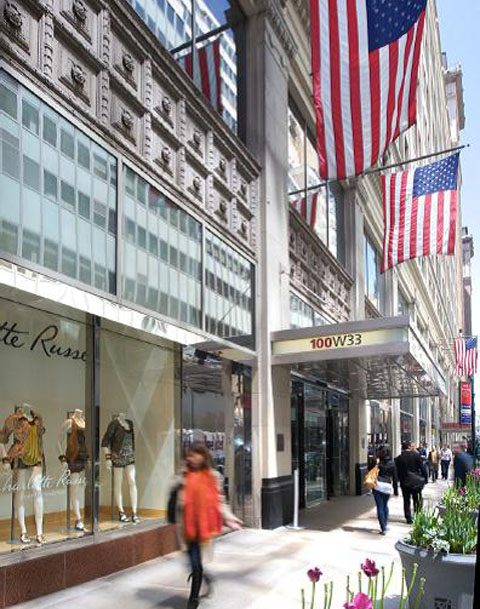 Vornado Realty Trust's flurry of activity in Manhattan continues as the REIT wraps up the refinancing of 100 West 33rd St., a mixed-use office property encompassing 1.1 million square feet. The transaction marks the completion of Vornado's third Manhattan refinancing deal this year.
Originally developed in 1910 and most recently upgraded in 2009, 100 West 33rd St. encompasses 847,000 square feet of office space and a 243,000-square-foot retail segment known as the Manhattan Mall. Vornado acquired the property, including 250,000 square feet of additional air rights, for $689 million in cash in early 2007. At the close of the fourth quarter of 2011, the occupancy level at the 15-story tower was 93.6 percent.
The financing for 100 West 33rd St. came in the form of a loan currently bearing interest at 2.74 percent, or LIBOR plus 2.5 percent. Excluding the loan repayment and closing fees, Vornado pocketed $87 million on the deal.
Over the few months, Vornado has managed to complete two other refinancing transactions in New York City. The REIT closed the $300 million refinancing of the of the 558,000-square-foot office tower at 350 Park Ave. in January, and refinanced Eleven Penn Plaza, a 1.1 million-square-foot office property, to the tune of $330 million in late December.
It's all part of the plan. As noted in its fourth-quarter earnings report, Vornado has nearly $1.3 billion of outstanding debt scheduled to mature in 2012, and the company intends to address the fast approaching deadlines by refinancing assets or repaying loans with its available cash-on-hand and/or the approximately $2.3 billion available under its revolving credit facility.
Those who can, do — refinance, that is. The number of those who cannot, however, is significant. As noted in a report by commercial real estate services firm Jones Lang LaSalle Inc., $415 billion of mortgage loans are due to mature in 2012. And maturities over the next five years will jump to between $800 billion and $1.2 trillion, according to a recent study by Ernst & Young. "It is expected that many borrowers will not be able to refinance their loans due to values hovering at or below the loan amount," as per the study. "Analysts estimate that up to a third of the maturing loans cannot be refinanced."