January 10, 2012
By Scott Baltic, Contributing Editor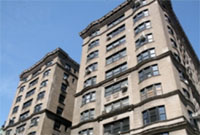 A joint venture of Vornado Capital Partners and HFZ Capital Group has purchased 11 E. 68th St. in New York City for $170 million plus closing costs and adjustments, Ziel Feldman, founder and president of HFZ, announced Monday. The seller was Abro Management; Abro affiliates had bought the building in 2008 for $191.8 million. Vornado Capital Partners is an $800 million fund sponsored by Vornado Realty Trust.
Based in part on the apartment building's perceived potential to be converted into condos, when it first went on the market in July there were predictions that it would fetch up to $220 million.
The 100,000-square-foot property, built in 1913, was described by the purchasers as "iconic," "coveted" and "one of the last remaining luxury rentals on the Upper East Side," presumably in part because it's half a block from Central Park in the Lenox Hill area of Manhattan's Upper East Side. The building, according to various sources, has either 41 or 44 residential units.
One online apartment information site showed 12 one-bedroom units listed for rents ranging from $4,200 to $8,500 and four studios listed at rents from $2,750 to $3,995.
The building's approximately 100 feet of retail frontage on Madison Avenue is occupied by two clothing stores of about 5,000 square feet each: Joseph, a U.K.-based operation, and Malo, an Italian clothier specializing in cashmere
The retail component will be owned and managed by Vornado; HFZ will own and reposition the luxury rental apartments.
The 12-story Neo-Renaissance property was originally named The Marquand, after Henry Gurdon Marquand, a philanthropist and collector whose private mansion once stood on the site.