November 3, 2011
By Barbra Murray, Contributing Editor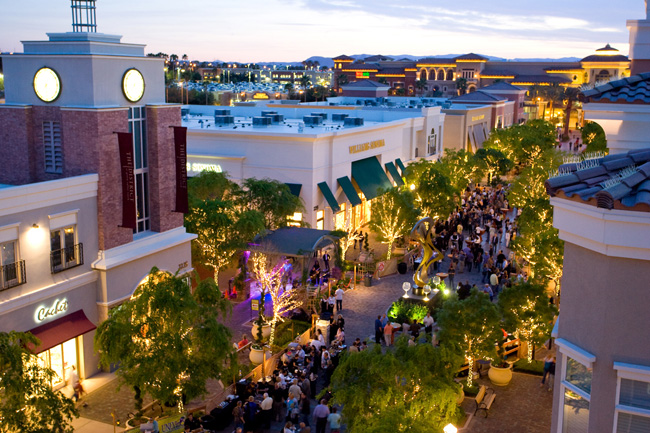 Vestar Development Co. has laid the groundwork to get in on the Vegas retail game with a deal to acquire The District at Green Valley Ranch in Henderson, Nev. Vestar is teaming with joint venture partner Rockwood Capital to purchase the 384,100-square-foot mixed-use lifestyle retail center in what local industry experts describe as the second-largest commercial real estate investment transaction to occur in the Sin City area in three years.
"I think that Las Vegas has been overlooked because of its housing issues and so forth, and from our standpoint, if you can get quality properties, now is the time to pick up those types of assets," Rick Kuhle, president of Vestar, told Commercial Property Executive.
Vestar will purchase The District, sited roughly 10 miles south of the Strip on Village Walk Drive in the Green Valley Ranch master-planned community, from receiver LNR Partners L.L.C. with cold hard cash.
Considered southern Nevada's first mixed-use metropolitan lifestyle destination, The District came on the scene in two phases, the first one of which occurred in 2004 and presented 212,600 square feet of retail and office space and 88 upscale residential condominiums on a 21.5-acre site. Phase two followed in 2006, delivering 171,500 square feet of retail and office space in multiple structures on 16 acres. Tenants at the property include national names ranging from Pottery Barn and Williams-Sonoma to the Cheesecake Factory and Whole Foods.
All told, The District is approximately 83.5 percent leased, a figure that is not quite in line with the average metropolitan Las Vegas retail vacancy rate, which was 10.8 percent in the third quarter, as per a report by Voit Real Estate Services. Vestar, however, does not consider it a gamble to take on a property with a relatively low occupancy level. "The District had gone back to the bank and its receiver over a year ago and it was kind of just sitting there with nobody focused on it," Kulhe noted. "We think that with some focus, we'll take it from its current lease level, to probably 90, 95 percent within 12 months. The existing retailers have great sales. The average retailer, not including the restaurants, is well over $450 a square-foot. I think there are only a few A-quality properties and right now you can get them at a distressed price, and then when the market does rebound, those A-quality assets will be the first ones to recover."
Vestar plans to invest somewhere in the range of $3 million to $5 million to upgrade The District over the next year, and if there are more such premier retail properties to be snapped up in the Vegas area, the company is game. However, Kuhle is well aware of the challenges of finding such assets for purchase.
"I just don't think there are that many A-quality properties, first of all," he explained. "And second of all, the A-quality projects typically don't even go on the market because the developers and the investors hold them, they usually don't sell them. So these are the type of markets or times when there will be, from time to time, one or two of them to come on the market — and we were lucky enough to grab one."
Faris Lee President Richard Walter and Senior Managing Director Donald MacLellan of the Irvine, Calif., office, as well as Senior Managing Director Rob Moore of the Las Vegas office, represented LNR Partners.