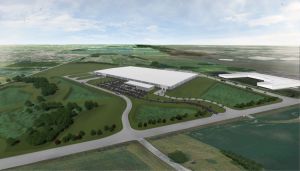 Construction has begun on an 897,000-square-foot build-to-suit facility for Central Steel and Wire, a Ryerson Holding Corp. company, at Gateway 57 Business Park in University Park, Ill., that will be the company's new headquarters and operations hub. The building—the third at the Class A industrial park—is set for completion in spring 2023.
The co-developers are Venture One Real Estate, a real estate private equity fund manager, developer and operating company specializing in industrial properties, and CRG, a national real estate development and investment firm. Clayco will serve as the design-builder. Lamar Johnson Collaborative is the project's architect and Hefner and Associates is the civil engineer.
---
READ ALSO: CRG's $500M Mixed-Use Moves Forward
---
Dirk Riekse, Jordan Rovito and Sean Henrick of Cushman & Wakefield represented CS&W in the transaction. Jason West and Ryan Clink of Cushman & Wakefield represented the landlord.
The groundbreaking comes several months after CS&W signed a lease for the state-of-the-art service center at the Gateway 57 Business Park, a 355-acre master-planned development located about 35 miles south of downtown Chicago. The new office and manufacturing facility will be situated at the southeast corner of Central Avenue and West Steger Road. Gateway 57 has immediate access to Interstate 57 and easy access to the Chicago region and beyond via I-80, I-94 and I-294.
Ryerson, which acquired CS&W in 2018, sold the company's 70-acre site at 3000 W. 51st St. on Chicago's Southwest side to Amazon last year for $35 million, according to the Chicago Tribune. CS&W had been located at the Chicago property for about 80 years. Amazon is building a package delivery station there, the newspaper reported.
CS&W and Amazon will be neighbors at Gateway 57. A 1.1 million-square-foot build-to-suit distribution center was completed last year at 23257 Central Ave., across from the CS&W site. The first building completed at the site was a 1 million-square-foot distribution center for Georgia Pacific that delivered in August 2017.
West, a Cushman and Wakefield vice chair, told Commercial Property Executive the firm is actively marketing the last remaining site on Cicero Avenue, known as Building D, for another build-to-suit deal.
More Chicago Industrial
Early last year, Venture One hit 100 percent occupancy at its Crossroads 55 Business Park in Channahon, Ill., after it signed two tenants to a combined 2.3 million square feet of industrial space. The tenants were CJ Logistics America, which leased a 1 million-square-foot distribution property built in 2018, and ScottsMiracle-Gro, which signed a lease for a nearly 1.3 million-square-foot built-to-suit property that was set for completion in late 2021. Crossroads 55, a 274-acre site at the intersection of I-55 and I-80, offers more than 3.3 million square feet of industrial space throughout three buildings.