Vacancy Rates Grow Across San Francisco Through February
The market's overall rate also remains above the national average.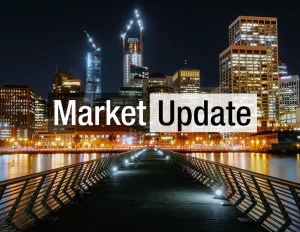 Office leasing activity across the San Francisco-Peninsula market remains slow compared to other metros, but the Bay Area—comprising the East and South Bay—has seen significant improvements, according to CommercialEdge data. San Francisco's overall vacancy was 16.8 percent as of February, up by 90 basis points month-over-month and 400 basis points year-over-year.
After staying ahead for most of 2021, San Francisco fell behind the national vacancy rate, which stood at 15.7 percent as of February. Among other gateway metros, only Chicago's rate was higher, at 20.3 percent, while Los Angeles (13.3 percent) and Manhattan (13.1 percent) stayed ahead.
The metro's demand for high quality office space dedicated to life sciences and tech continued to keep prices relatively high, but their downward trend continued. The average full-service equivalent listing rate in San Francisco was $69.18 as of February, a 1.6 percent decrease year-over-year.
Submarket Performance Largely Subpar
Almost no submarkets (with total stock over 8 million square feet) across the Peninsula market saw a decrease in vacancy rates in February. The South Financial District submarket was among those few, with the rate at 18.0 percent—down 20 basis points month-over-month. In the North Financial District, the rate grew by 120 basis points month-over-month, to 16.8 percent, while SoMa saw an increase of 110 basis points, to 22.7 percent.
On the other hand, bursts of improvements were recorded across East and South Bay submarkets. The Bay Area's overall rate was at 14.8 percent in February, down 140 basis points month-over-month.
In Emeryville's growing life science hub, Canopy Health signed a lease for its new headquarters at CBRE's 16-story office tower. The physician and hospital-owned medical network is planning to occupy the new space by May 2022. The Emeryville submarket was among those that recorded a significant improvement in terms of vacancy—at 14.6 as of February—having dropped by 290 basis points month-over-month.
CommercialEdge covers 8M+ property records in the United States. View the latest CommercialEdge national monthly office report here.