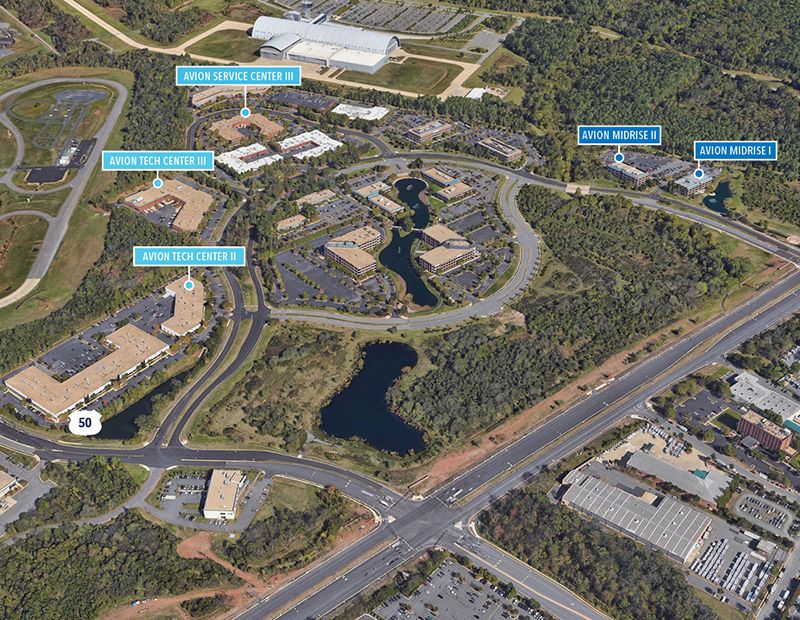 Minkoff Development has purchased a five-building flex/industrial and office portfolio just south of Dulles International Airport for $43.5 million. The Transwestern Mid-Atlantic Capital Markets Group brokered the sale on behalf of Maguire Hayden Real Estate Co.
The 317,800-square-foot bundle of properties is located within Avion Business Park, along route 28 and 50 in Chantilly, Va. Hayden Maguire Real Estate Fund scooped up the portfolio for $60.5 million in October 2014. Transwestern said in a statement that Minkoff Development saw an opportunity to add value by leasing the available space while enjoying secure cash flow from the existing, high-credit tenants.
Developed by Trammell Crow Co. between 1987 and 2001, the portfolio is 78 percent leased and comprises:
the one-story, 47,810-square-foot flex building at 14700 Avion Parkway
two the one-story flex buildings totaling some 156,500 square feet, located at 3635 and 3650 Concorde Parkway
two three-story office buildings totaling almost 114,000 square feet, situated at 14500 and 14520 Avion Parkway
Tapping the defense industry complex
According to a marketing brochure from Transwestern, more than 30 percent of the portfolio's tenancy is technology-oriented, and 47 percent of the leased area is credit tenancy. The weighted average lease expiry of the credit tenancy is 42 months.
The larger Avion Business Park stretches across 180 acres, with a total of 19 buildings that provide office, flex and industrial space. The suburban park is located in a high-income area driven by the defense, aerospace and high-tech industries, nearby the campuses of the National Reconnaissance Office and the Central Intelligence Agency.
An affiliate of Northridge Capital obtained $10.4 million in financing for Avion Midrise III, a neighboring building at 14550 Avion Parkway, last October. The property is fully occupied by defense contractor Leidos Innovations Corp.