By Gail Kalinoski, Contributing Editor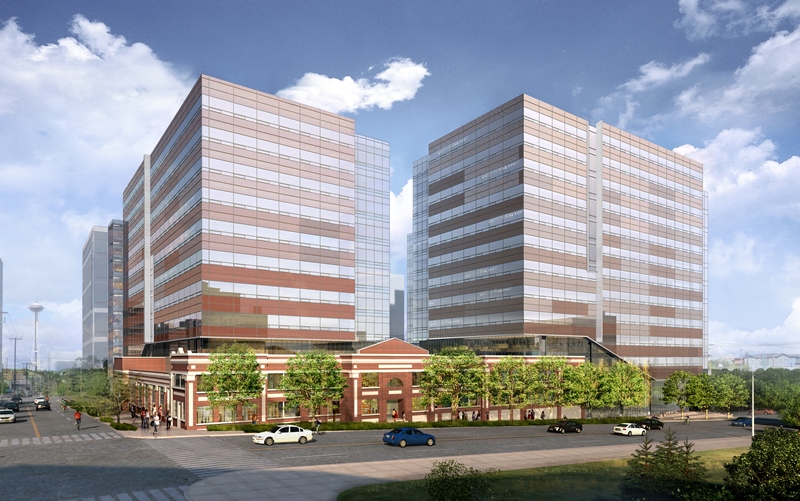 The hot South Lake Union submarket in Seattle is getting another office development as USAA Real Estate Co. and Touchstone team up on a two-building, 820,000-square-foot project at 307 Fairview Ave. North.
USAA Real Estate, a San Antonio, Texas-based firm that is the real estate investment arm of USAA, a financial services company, will be the equity partner in the project planned by local developer Touchstone.
The first phase in the area known as the Troy Block will be a 12-story, 380,000-square-foot office tower at the corner of Boren Avenue and Thomas Street. The second phase will feature a 13-story office building. The development area is bounded by Fairview, Thomas, Harrison and Boren and is near the Amazon.com headquarters. It is the site of the former Troy Laundry building and Boren Investment warehouse. Both buildings are landmarks and the developers must retain the facades as part of the overall project. A pedestrian courtyard will go between the buildings. The project will also include a five-level, below-grade parking garage.
Estimates for development costs and a construction timetable were not released but Touchstone had prepared tentative plans while it waited for the Seattle City Council to rezone the area to allow taller buildings. The rezoning was approved in May. Touchstone had owned the property since 2011, when it bought it from the Seattle Times newspaper for reported $18.4 million.
The project is the first joint venture partnership between USAA Real Estate and Touchstone, which has been active in Puget Sound region for 30 years and has constructed numerous Class A office buildings, biotechnology R&D and mixed-use developments, including West 8th, a 500,000-square-foot, 28-story, office building in downtown Seattle.
"South Lake Union is one of Seattle's foremost neighborhoods offering a robust employment base in which to work and live," Len O'Donnell, USAA Real Estate President & CEO, said in a news release. "We look forward to a long and successful relationship with Touchstone."
The developer is planning to attain LEED Gold and Energy Star certifications. Perkins + Will are the architects and Lease Crutcher Lewis is the contractor. David Abbott and Tom Abbott, a father and son team from Colliers International, are marketing the office space.
"With floor plates of nearly 32,000 square feet in each tower, we think this project is uniquely designed to meet the needs of today's technology users who are looking for efficiency, flexibility and collaborative space," Touchstone President Douglas Howe said in the joint news release.
Skanska USA is one of several developers taking advantage of the rezoning in South Lake Union to build larger projects. The firm is building a $150 million office and retail project with about 337,000 square feet of space. Located at 400 Fairview Ave. North, it will be 13 stories tall like one of the towers planned by Touchstone for the neighboring Troy Block site.
USAA Real Estate, with more than $12 billion in assets under management, provides co-investment, acquisition, build-to-suit and development services for corporate and institutional investors. Its portfolio includes office, industrial, retail and hotel properties as well as investment in real estate operating companies. Last month, USAA Real Estate and The Opus Group broke ground on a 604,565-square-foot speculative industrial building in North Aurora, Ill.