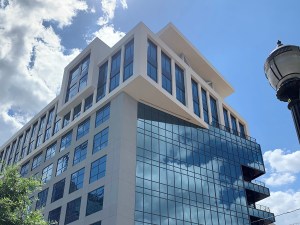 USAA is joining the major financial services firms with a significant footprint in Charlotte, N.C. The San Antonio-based company announced on Thursday that it will lease 90,000 square feet at 200 West Blvd., a new 153,000-square-foot office building.
Part of The Square at South End, a mixed-use project being developed by Charlotte-based Beacon Partners in the city's trendy South End neighborhood, 200 West Blvd. is scheduled for completion this summer, according to information on Beacon's website. The East/West Blvd. light rail station, The Design Center, the Rail Trail and other amenities and attractions are within a short walk. USAA's new office space will eventually house some 750 professionals, who will work either onsite or in a hybrid model, USAA said in a statement.
---
READ ALSO: Top 5 Markets for Office Construction Activity
---
With its new office, USAA establishes a larger corporate footprint in a city that serves as the headquarters for Bank of America and Truist. A principal attraction of gaining a presence in Charlotte is the large local talent pool in a variety of professions, ranging from banking and legal services to risk management and technology, noted USAA President & CEO Wayne Peacock in a statement.
Flowing pipeline
Also planned is Centro Square, the residential project sponsored by Centro Cityworks and Ascent Real Estate Capital, two Charlotte-based firms. Scheduled for completion in the summer of 2022, the six-story multifamily component will include 132 residential units and 7,300 square feet of ground-floor retail, according to the Charlotte Business Journal.
According to a February 2021 report from Charlotte Center City Partners, a nonprofit business development organization, South End's development pipeline includes 2.2 million square feet of in-progress or planned construction. Also on the way are 371,000 square foot of retail, 3,800 residential units and 380 hotel guestrooms.
The Square at South End will also feature an outdoor wellness center and an outdoor plaza. A new community attraction, Wilmore Centennial Park, located on an adjacent 1.5-acre site, is scheduled for completion this summer.
Beacon Partners' other recent developments in the area include RailYard South End. Completed in 2019, the project consists of two eight-story towers totaling nearly 300,000 square feet of office and 30,000 square feet of retail. Late last year Cousins Properties acquired the RailYard in a $201 million deal.
Charlotte's 7.7 million square feet of under-construction office product represents 10.7 percent of existing inventory—the largest share of any major U.S. metro, according to CommercialEdge's latest national office report. Office vacancy rate stood at 15.2 percent, 80 points lower than the national average, CommercialEdge reported.