By Gail Kalinoski, Contributing Editor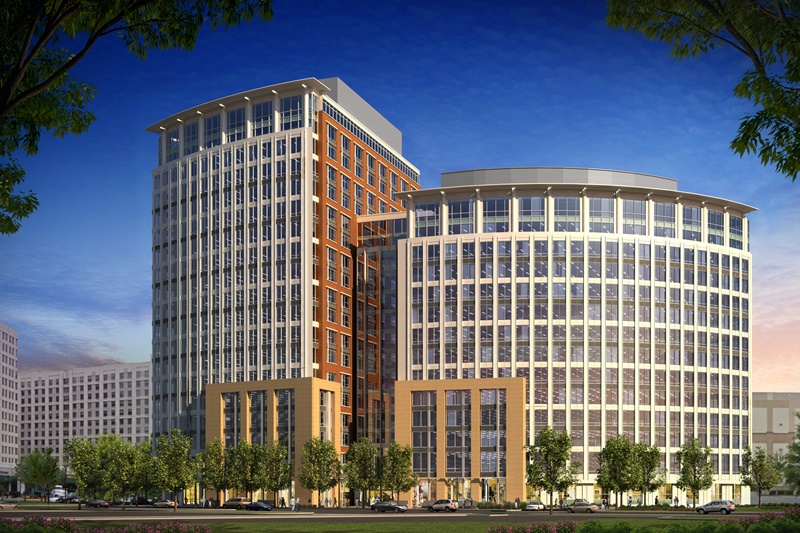 San Antonio-based USAA Real Estate Co. has acquired the Alexandria, Va., site where a new 704,571-square-foot headquarters will be built for the National Science Foundation from the Hoffman Co. L.L.C.
The price was not released. USAA said Los Angeles-based Lowe Enterprises will be the developer and property manager once the Class A office buildings are completed in late 2016.
Under a 15-year lease with the General Services Administration, the NSF will relocate from its current site in Arlington, Va., and occupy 94 percent of the two-building development. The project, which will include 19,437 square feet of retail space, will consist of two interconnected towers of 19 and 14 stories. The 2.03-acre site will have 375 parking spaces on three subterranean levels.
The site, known as Block 8 of the Hoffman Town Center mixed-use project, is in the Carlyle neighborhood and located directly across from the Eisenhower Avenue Metro Station. It is within three blocks of the U.S. Patent and Trademark Office campus and the U.S. Federal District Courthouse.
USAA said it will seek LEED Silver Commercial Interiors Certification for the buildings that are also expected to achieve an Energy Star rating.
"Located in one of the leading core real estate markets in the country within an exciting new mixed-use urban setting, the NSF Headquarters building is an important new project, exemplary for the high standards the market has come to expect of USAA Real Estate Co.," Len O'Donnell, USAA CEO, said in a news release. "We are pleased to expand our relationship with developer, Lowe Enterprises whose hospitality management subsidiary, Destination Hotels & Resorts, was recently selected as the manager for our La Cantera Hill Country Resort in San Antonio, Texas."
"The Carlyle area in Alexandria is emerging as an ideal location for commercial users in the Washington region, and as a dynamic, urban community that offers a modern lifestyle for the people that live and work there," Mark Rivers, managing director of Lowe Enterprises Real Estate Group, said in the release.
It is not the only office project within the master-planned Hoffman Town Center, a 7 million square-foot development on 56 acres that will have 3.5 million square feet of Class A office space, 1.5 million square feet of residential space, two full-service hotels, 200,000 square feet of retail and a 22-screen theater when it is built out by 2020.
One 350,000-square foot Class A office tower at 2461 Eisenhower Ave. has already been completed and is seeking tenants, according to Brendan Owen, chairman of asset services for the Washington, D.C., metro area for Newmark Grubb Knight Frank. Owen represented the Hoffman family in the Block 8 parcel sale to USAA.
He said there was no trepidation in constructing a speculative office building at that location.
"Delivering this building, even in these economic times, is a good bet for the Hoffman family," Owen told Commercial Property Executive.
Owen said the location "has the extremely rare and incredibly valuable combination of being directly at the Beltway and on top of a major Metro stop."
Newmark Grubb Knight Frank is also representing the Hoffman family in the sale Block 11, which will be a 33-story tower with 642 residential units and a 52,000-square-foot Harris Teeter grocery store on the ground floor. The residential building is expected to be completed about the same time in late 2016 as the NSF development.