By Keith Loria, Contributing Editor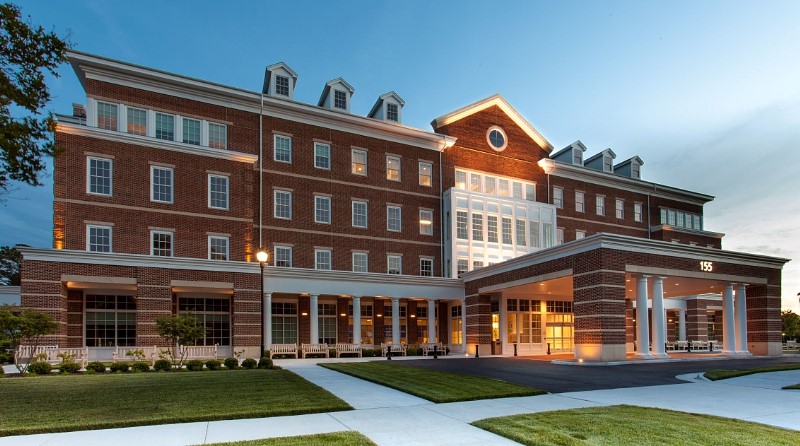 Norfolk, Va.—In a joint venture, Brackett Flagship Properties and USAA Real Estate Co. have acquired DePaul Medical Plaza, an approximately 100,000-square-foot, LEED Silver certified, Class A medical office building located within the Bon Secours DePaul Medical Center campus just north of downtown Norfolk, Va.
"DePaul Medical Plaza is a new, beautiful building integrated onto the Bon Secours DePaul Medical Center campus," Russell Brown, senior vice president of investments at Brackett Flagship Properties, told Commercial Property Executive. "It was a value-add acquisition (shell space to lease) in our target region with a seller we knew; not to mention an opportunity to expand our presence serving a new hospital system in a new market for our company."
The Bon Secours DePaul Medical Center is a hospital with a long and impressive history of serving the community. Originally delivered in 2014, the property is situated right on campus, across from the entrance of Bon Secours DePaul Medical Center—a faith-based hospital that was originally opened as St. Vincent DePaul in 1856 to serve the health needs of the greater Hampton Roads community.
"The catalyst for our investment in the asset was Bon Secours' anchoring the building," Brown said. "The recent leasing momentum solidified our thesis that this property just needs a little more time to achieve maximum occupancy, value, and service to DePaul Medical Center's healthcare community."
At the time of the sale, the building was 64 percent occupied. Its tenant roster includes Bon Secours Oncology Specialists, run by the renowned team of Drs. Judith Blevins, MD and Bradley Prestidge, MD; the Bon Secours Outpatient Infusion Center; Bon Secours Surgical Specialists; and DePaul Medical Associates.
The deal marks the tenth acquisition for the joint venture since its formation last year.
"We seek acquisition and development opportunities in the Southeast that either have a stable, long-term outlook or that we believe we can lead a catalytic event to maximize their value and service to the healthcare community," Brown said. "This asset met those criteria and gave BFP and our partner USAA Real Estate Co., an opportunity to grow our joint venture's portfolio."
Lendlease has been retained for on-site property management, with building leasing provided by Perry Fraser in CBRE's Norfolk office.
"The paint is barely dry in the building, which is part of its appeal," Brannen Edge, Brackett Flagship Properties president & chief operating officer, told CPE. "Beyond building out the existing shell space for new occupants, we want to continue the great work that Lend Lease and Bon Secours have started, operating the building under the highest standards."