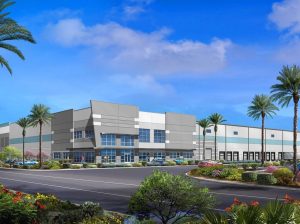 US Capital Development is ready to start construction on Falcon Park 303, a 599,486-square-foot logistics project in Glendale, Ariz. The development team also includes general contractor Willmeng Construction, civil engineering firm Hilgart Wilson and architect Gray Design Group Inc. Site work is planned to begin in August, with delivery expected in July 2022.
Falcon Park 303 will rise on a 38.3-acre lot at the intersection of West Camelback Road and North 152nd Avenue, along the Loop 303 Corridor. Upon completion, the building will feature 40-foot clear height and the property will encompass nearly 600 car parking spaces and more than 160 trailer parking spaces. Cushman & Wakefield's Andy Markham and Mike Haenel will handle all leasing at the facility.
Situated just east of Loop 303, the development site is roughly 15 miles southwest of downtown Glendale and 22 miles northwest of downtown Phoenix, within the metro's Northwest Valley industrial market. The property is some 4 miles north of a 357,000-square-foot speculative cold storage facility underway since April within the 1,340-acre Woolf Logistics Center.
The Loop 303 attraction
As the industrial development boom picks up across the Phoenix metro, Loop 303 continues to be a focal point for developers of manufacturing and logistics facilities. Falcon Park 303 will join a high number of industrial properties around the freeway, such as PV|303, Park303, Woolf Logistics, West 303 Logistics and Sarival Logistics, to only name a few. One of the largest new projects in the area is the 3.8 million-square-foot manufacturing site planned by Taiwan Semiconductor Manufacturing Co.
CommercialEdge data shows some 15.4 million square feet of industrial space was under construction across the Valley as of April, representing 5.9 percent of stock. Nearly 8.3 million square feet was underway in the Northwest submarket in the first quarter of 2021, according to a recent Colliers report.
Glendale itself accounts for a large part of the ongoing development activity. One of the largest projects underway within the city limits is The Cubes at Glendale, a 5.5 million-square-foot, 355-acre industrial development of CRG and Bird Dog Industrial, which broke ground in March.
Other note-worthy projects include Brooklyn Bedding's 648,165-square-foot facility, coming online at the intersection of West Bethany Home Road and North 52nd Avenue, and the 388,000-square-foot speculative development of Scannell Properties.