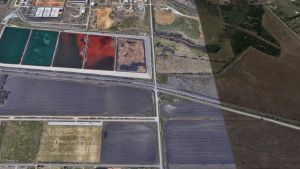 Urban Logistics Realty has commenced construction at the 2.3 million-square-foot Alcott Logistics Station, a multi-structure industrial campus in Mesquite, Texas. Urban Logistics, having recently inked a master development agreement for 75 acres of city-owned land, will build two facilities totaling approximately 918,000 square feet at the suburban Dallas industrial park.
Urban Logistics will develop Alcott Logistics Station's Building B and Building D on a site at the intersection of E. Scyene Road and Faithon P. Lucas Sr. Blvd. Building B will contain roughly 313,000 square feet, while Building D will encompass a total of 596,000 square feet. According to city documents, Building B and Building D will have a total combined value of approximately $47.8 million.
---
READ ALSO: Dallas' CRE Highlights of 2021
---
Alcott Logistics Station, which will ultimately be home to more than 1,600 workers, will feature amenities more often found at office campuses. The property, based on premier architectural designs, will offer collaborative outdoor space, including a 5-acre park and a trail system that connects with the surrounding residential neighborhood.
The CBRE team of Kacy Jones, John Hendricks and Trevor Atkins is spearheading marketing of Alcott Logistics Station's Buildings B and D. Urban Logistics anticipates completing the two industrial facilities in November 2022.
Hoping for a repeat performance
The start of construction of the two-building Alcott Logistics Station project comes on the heels of notable success at another Urban Logistics project in Mesquite, Urban District 30. The real estate company broke ground on Urban District 30, a 1 million-square-foot, master-planned industrial park, in January 2020. In September 2020, Urban Logistics announced it had landed 1000Bulbs.com, as its first tenant for the project, having signed the e-commerce lighting retailer to a 203,000-square-foot lease. And in May 2021, Urban Logistics sold the first phase of Urban District 30 to KKR.
Sale or no sale, solid leasing activity is likely, as the outlook for the industrial sector in metropolitan Dallas remains bright. "Dallas-Fort Worth's central location and extensive transportation and distribution network will continue to make it a vital logistics hub," according to a fourth quarter 2021 report by Cushman & Wakefield. "Leasing activity will continue to outpace new supply, keeping vacancy below historical levels."
In Mesquite, the numbers continue to tell the story. The city recorded positive annual net absorption totaling nearly 1.7 million square feet in 2021, according to the Cushman & Wakefield report.