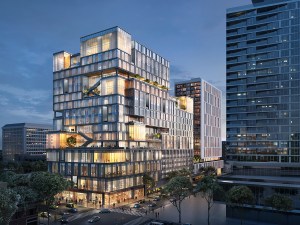 Five months after launching its second real estate fund, Urban Catalyst, a leading Opportunity Zone Fund in Silicon Valley, is moving ahead with its Icon/Echo mixed-use project that will bring Class A office space and residential units to San Jose, Calif.
---
READ ALSO: Kennedy Wilson Expands in Silicon Valley With $147M Buy
---
Urban Catalyst said it has submitted formal entitlements, including its site development permit and vesting tentative tract map, for the project at 147 E. Santa Clara St. in the city's downtown. The fund has also completed the conforming rezoning process to align with San Jose's General Plan and received approval of its initial tentative map for the project land. Urban Catalyst has purchased two of the four parcels needed for the development and is under contract to acquire the remaining two.
Icon/Echo will create about 420,000 square feet of office space and more than 300 multifamily units in two towers on 2 acres of land that is catty-corner with City Hall and within a block of a future BART station. The towers will also include more than 50,000 square feet of outdoor amenities, including rooftop gardens, as well as interior common areas.
OZ Funds
The transit-oriented development is part of the federal Opportunity Zone for tax relief and Urban Catalyst, a qualified Opportunity Zone Fund, is accepting investments for the Icon/Echo Towers project.
In February, Urban Catalyst launched Fund II with the goal of raising $200 million toward the mixed-use project. Fund I, which raised $131 million in commitments through a group of 356 investors, closed on Dec. 30, 2020. Both funds will contribute to the mitigation of Silicon Valley's housing crisis. Fund I is investing in seven ground-up developments consisting of office, multifamily, senior housing and hotel projects. Fund II will be focused on the Icon and Echo mixed-use towers.
Erik Hayden, founder & CEO of Urban Catalyst, said in a prepared statement the Icon/Echo project is expected to be home to more than 500 residents and more than 2,000 employees in a transit-oriented neighborhood the city's central business district. He called building high-density development near transit Urban Planning 101.
Josh Burroughs, partner & chief operating officer at the fund, stated the development will complete the key intersection of 4th and Santa Clara Street, while breathing new life into St. James Park for a balanced work-life environment.
The project is being designed by WRNS Architecture in coordination with Studio Current. Once completed, it will be managed by Greystar, one of the largest apartment and commercial operators in the U.S.