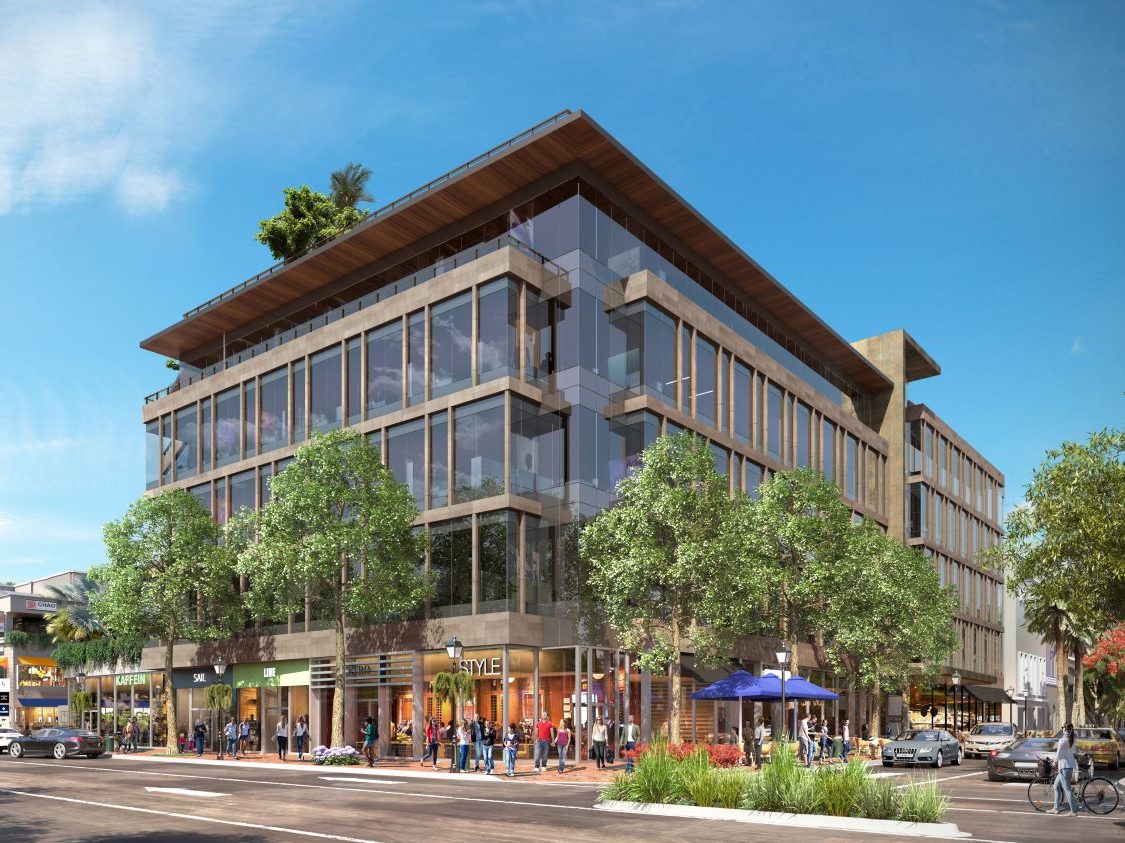 Boyne Capital Partners has signed an 11,597-square-foot lease at One CocoWalk, the Class A, 85,762-square-foot office building underway in Miami's Coconut Grove neighborhood. The private equity firm will relocate from 2601 S. Bayshore Drive to the fourth floor of the property, which is up for completion in 2020. A joint venture between Federal Realty Investment Trust, Grass River Property and The Comras Co. owns the upcoming five-story asset.
---
READ ALSO: The Modernization of Coconut Grove: First Office Projects in 30 Years
---
Located at 3015 Grand Ave., the office building replaces the north wing of the former CocoWalk mall as part of the new mixed-use CocoWalk project. The immediate area holds numerous restaurants and shops as well as several hotels. The property is close to the Dixie Highway and Miami International Airport is within a 20-minute drive north.
Blanca Commercial Real Estate's brokerage team of Tere Blanca, Danet Linares and Juan Ruiz represented the ownership, while Randy Carballo assisted the tenant in the negotiations.
The CocoWalk redevelopment
Located at the intersection of Main Highway, McFarlane Road and Grand Avenue, CocoWalk was once one of Miami's points of interest. Federal Realty Investment Trust, Grass River Property and The Comras Co. purchased the mall in 2015. Three years later, the joint venture started work at the mixed-use project, implementing space reconfiguration and retail repositioning.
The new CocoWalk will be home to 150,000 square feet of shopping, dining and entertainment space, 100,000 square feet of office space and redesigned public areas. Retailers and restaurants that recently signed leases at the property include Mister 01 Extraordinary Pizza, Los Generales Mezcal & Grill, Edward Beiner and The Spot Barbershop, all set to open by spring 2020.
According to Yardi Matrix data, One CocoWalk is proposed to be certified as LEED Silver and set to feature floorplates averaging 21,000 square feet and a parking ratio of 3.5 spaces per 1,000 square feet. Amenities are slated to include an on-site fitness center, rooftop terrace and event space. One CocoWalk is already approximately 65 percent leased, with Spaces as anchor tenant. Starting April 2020, the coworking firm will occupy 42,883 square feet of space.