By Alex Ciorogar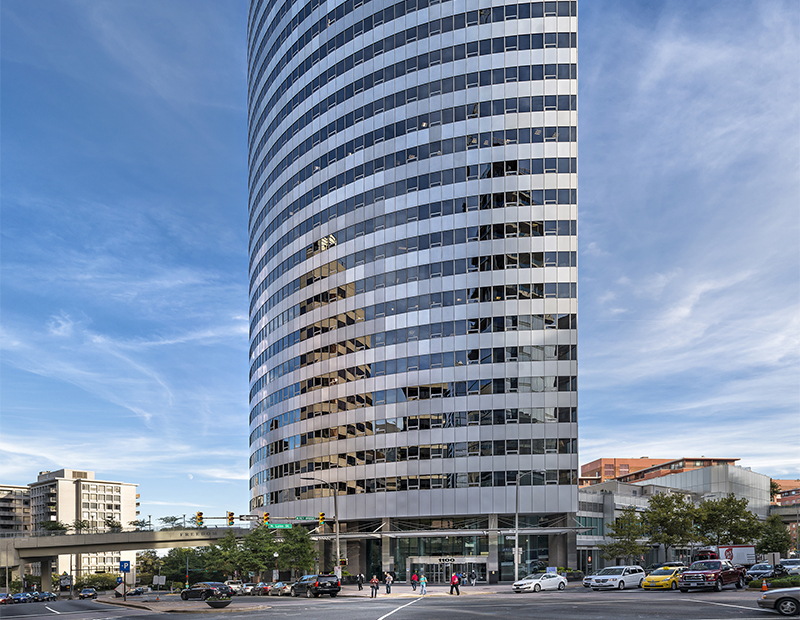 The University of Virginia Darden School of Business will open a learning facility on the 30th and 31st floors of Monday Properties' iconic building in Rosslyn, Va. The long-term lease will include 40,000 square feet of administrative, conference and classroom space.
The top two floors of the twin towers at 1100 Wilson Blvd. will include stadium-style seating used for networking events and other business and school-related functions. The asset will also comprise one of the most expansive rooftop decks in the D.C. metro area. With more than 5,000 square feet of indoor and outdoor space, the rooftop deck will feature an amenity zone for conferencing, events and collaboration space. The property is LEED Gold certified and was the first in Virginia to be WiredScore Platinum certified.
Premium Location
"Rosslyn's proximity to major spheres of influence in D.C., including Capitol Hill and the White House, played a significant role in our decision, with the support of the University of Virginia. At 1100 Wilson, we'll have the opportunity to tap into our expansive Washington, D.C. alumni base, continue to offer an unmatched learning experience through our Executive MBA, advance business knowledge, and work closely with organizations and individuals through Executive Education", said Scott Beardsley, dean of The Darden School of Business, in prepared remarks.
The project is expected to be completed by the summer of 2018.
"The new facility for Darden will be an extremely powerful tool to attract the top business student talent and continue to build on its momentum as one of the premier business schools globally. As prospective business leaders in the future, Darden students will be able to tap into resources that would appear to be unmatched in other regions of the country," said Tim Helmig, managing partner at Monday Properties, in a prepared statement.
The real estate investment firm was represented by John Wharton and Deniz Yener. Bruce McNair, Laura Peterson and Will Travis of Avison Young were financially responsible for The University of Virginia.
Image courtesy of Monday Properties