October 21, 2011
By Barbra Murray, Contributing Editor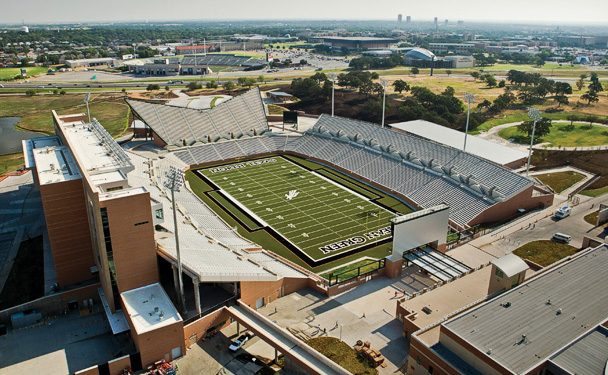 At the University of North Texas in Denton, green takes on new significance beyond school colors and the Mean Green athletics program, as the school's recently completed $79 million stadium picks up a major title — this time, in the world of sustainable development. UNT's Apogee Stadium has obtained LEED Platinum certification by the U.S. Green Building Council, making it the first newly constructed collegiate football stadium in the country to earn the Platinum status, the highest level of LEED certification.
Encompassing 31,000 seats, banquet space and an apparel store, Apogee sits within UNT's Mean Green Village of academic and training facilities. HKS Sports & Entertainment Group designed the stadium, which earned the designation through a variety of sustainable elements from the start of the building process, handled by Manhattan Construction Co., to the finished product.
In constructing Apogee, the development team relied on local manufacturers for 47 percent of its products and materials, 20 percent of which were produced with recycled content. Also during the building process, the team laid the groundwork for the reduction of carbon emissions by increasing the use of fly ash as a cement replacement.
Additionally, Apogee has a renewable energy source: three 121-foot wind turbines that will offset energy consumption across Mean Green Village by 6 percent, while greatly reducing carbon emissions. Other energy-saving features, including natural lighting in 90 percent of the regularly occupied indoor spaces, allow for an aggregate 25 percent decrease in energy consumption at the stadium. There is no wasting of water at Apogee either, as low-flow plumbing fixtures facilitate a 25 percent decrease in water usage.
"As a university system, we are committed to building campuses that minimize the use of natural resources and don't harm the environment," Lee Jackson, chancellor of the UNT System, said. "We want to provide all students, faculty and staff members on our campuses with buildings that are first class in every way, including reduced environmental impact."
Apogee's title as the first new-build collegiate stadium to go platinum adds a spark to a trend that began three years ago when Nationals Park, home of Major League Baseball's Washington Nationals team, became the first professional sports stadium to earn LEED certification, winning, LEED Silver.