By Samantha Goldberg
Philadelphia—Now is a good time to make sure your portfolio is well positioned, advises Gerard Sweeney, CEO of Brandywine Realty Trust. He spoke on the panel "Capital Markets: Where Are We Now and Where Are We Going?" during the 2016 Urban Land Institute Spring Meeting.
"Every sector of real estate is under assault," he warned.
Indeed, current market volatility and economic uncertainty are major concerns for all types of industries, and real estate is no exception. Sweeney was not alone in expressing such concerns, which have led them to reevaluate their strategies to ensure they're well prepared for any challenges that come their way.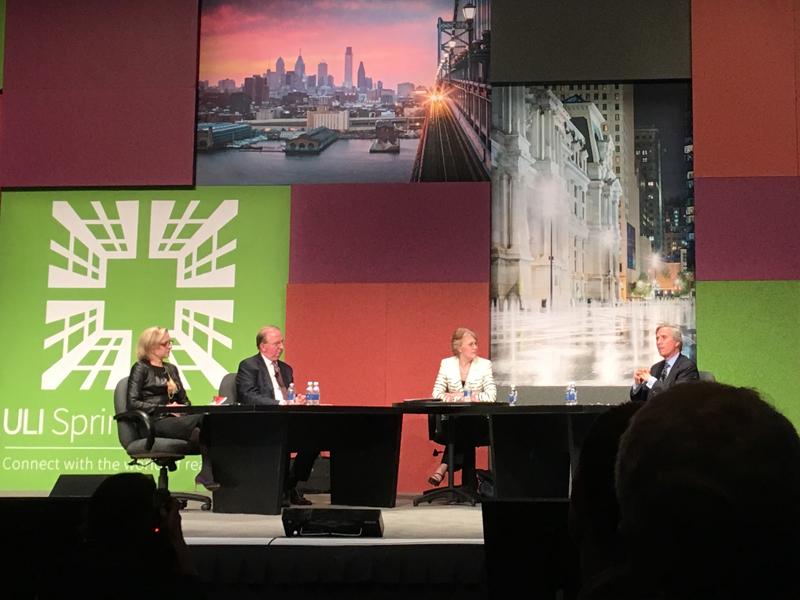 One of Brandywine's approaches is to shift its focus toward selling assets instead of pursuing new development. Sweeney noted that from 2014 to 2015, Brandywine sold about $2 billion worth of properties, with another $1.2 billion over the last 12 months.
This strategy secures capital for the company, which is pre-funding the REIT's development pipeline, including $800 million currently under construction.
Liberty Property Trust has a similar model. "Selling assets has been the primary source of funding for our development," said Bill Hankowsky, chairman of the major public REIT and another session panelist. The REIT sold about $2.5 billion worth of properties over the last several years and plans to sell another $900 million to $1.2 billion in assets this year, providing funding for new projects without having to take out construction loans.
This is especially useful since construction lending is so tight right now, noted Greta Guggenheim, CEO of TPG Real Estate Finance Trust, the mortgage investment arm of TPG Capital. "The beginning of this year was highly volatile. We saw major regulations come in that affected the regulated lenders," she said. "In the last three to four weeks, I've seen more requests for construction loans by developers who had accumulated land assemblages during this cycle but couldn't get the financing, and it looks like they're going to have to wait until the next cycle." This is a particular issue for condominium developers, as banks are reluctant to lend in markets with significant new supply, which is putting a lot of stress on that sector, she added.
One market with such a situation is Manhattan, where 9,500 condo units out of about 14,000 to 15,000 units expected to be delivered are priced above $4 million. "Historically, the units priced at that level that were absorbed by the market was 1,200 units per year, so that's a nine-year supply."
However, Guggenheim said the overall market is more rational in this cycle than it was in the last cycle and doesn't have the same amount of oversupply.
Sweeney added that this is largely because "there's a lot more information out there today," adding that "there's been a real maturation of our business."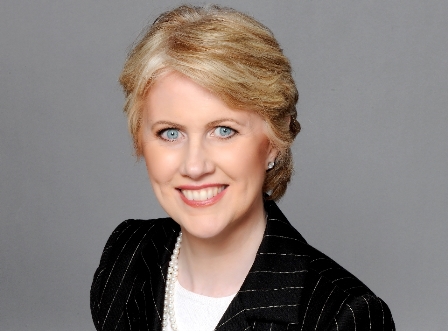 Another strategy Brandywine is pursuing to ensure it's well positioned is changing its portfolio from suburban or near urban to primarily urban focused, and to cycle out of certain markets or products.
"We started looking at the performance of certain properties and where we could justify long-term investments," Sweeney said. "Anything that didn't qualify under that guideline we started to sell, and the reality is that the majority of those properties were suburban."
He added that the company also bought about $110 million worth of land in Washington, D.C., downtown Philadelphia, and Austin, its three main markets. In addition, 80 percent of the firm's portfolio is now urban or town center properties served by rail.
Liberty Property Trust's change in product mix entailed shifting "from about 60 percent of revenues coming from office and 40 percent industrial to, by the end of this year, we should be 80 percent industrial and 20 percent office." He added that the 75 percent of the office component will be urban, as location is particularly important.
"We're seeing a real movement among our customers where they recognize physical space helps define culture and culture defines brand," Sweeney added. "So if these companies want to focus on growing their images and attracting real talent, where they house themselves is important."
The two REITs' changing strategies reflect where they believe we are in the real estate cycle. "I think we're in the later stages of the cycle," Sweeney said. "I think most of the markets that were going to move have moved; most of the rental rate increases will be the same; growth is decelerating. We have positioned ourselves so that if there's a downturn coming, we've got all our sales or repositioning done. If it's a false beep and things rebound, we're in great shape."
Hankowsky mostly agreed with this sentiment, but believes that because the financial crisis was "unprecedented and extraordinary," the recovery really only started in 2011. Thus, we could have a longer cycle—perhaps until 2018. Either way, both agreed preparation is key in case of a downturn.