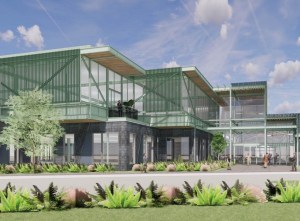 Triten Real Estate Partners has begun demolishing the former Market Square Mall in Plano, Texas, where it will build Assembly Park, a mixed-use development that will have 180,000 square feet of Class A creative office space along with retail and multifamily housing.
Triten, a real estate development and operating company with offices in Dallas and Houston, expects to deliver the project in late 2023. Known for its large-scale, adaptive reuse and mixed-use projects in Dallas and Houston, Triten purchased the property in January 2021 after a lengthy selection process. Triten officials said it was important to the City of Plano and original property owner to sell the site to a group that planned to enhance and revitalize the area and become part of the community.
---
READ ALSO: More Office Construction in Dallas-Fort Worth
---
In addition to the office space, Assembly Park will have 16,500 square feet of retail and dining space and more than 300 lofty flats and townhomes, all surrounding a large, newly planted central park consisting of event space, play areas and dog park. The property's location near I-75 and Legacy Central, an 85-acre campus with approximately 1 million square feet of office space, makes it ideal for large corporations and employers, according to Triten. Those living in the residential areas surrounding the property will also be attracted to Assembly Park's entertainment offerings.
Project Features, Team
The creative office portion of Assembly Park is designed by Agent Architecture and Michael Hsu Office of Architecture. The space will offer common workspaces and private areas including a library and collaboration spaces with state-of-the-art technology. Office tenants will also have use of a fully equipped fitness center featuring floor-to-ceiling windows and views of the park. Overhead doors will let fresh air in during workouts. Weekly fitness classes will be available for tenants and visitors.
Nathan Durham and Duane Henley with Newmark are leasing the creative office space.
Located off Spring Creek Parkway, the property's main entrance will feature two ground-up retail opportunities designed by Michael Hsu Office of Architecture. The retail spaces will range from 3,400 to 8,620 square feet. They will have patios with park views and hike and bike trail access.
Ryan Smith and Sarah Velten of Northview Co. are leasing the retail space.
The multifamily portion of the property will be rentals and feature Class A finishes, private garages and a state-of-the-art fitness center and pool area.
Focus on mixed-use destinations
With on-site programming and experiential offerings, the lifestyle redevelopment is similar to M-K-T, an adaptive reuse project Triten built in Houston. The roughly 200,000-square-foot project also includes creative office and retail space, is surrounded by a hike and bike trail and features outdoor dining, terraces, patios and open space.
Scott Arnoldy, Triten founder, said in a prepared statement the company places a high level of detail on the mixed-use projects it delivers. The firm also provides curated experiences to those working or visiting the sites to promote innovation, collaboration and a healthy lifestyle. Arnoldy said the former mall site provides an opportunity to reimagine the property that will be attractive to the residents of East Plano.
Triten is just one of many real estate firms redeveloping outdated shopping malls and retail properties across the country. In February, RED Development unveiled the newest details for its ongoing redevelopment of the 100-acre Paradise Valley Mall site in Phoenix. Now known as PV, Phase One is set to open by mid-2024 and will feature a 400-unit apartment community, Whole Foods market, Harkins dine-in theater, three restaurants and a park.