By Robert Demeter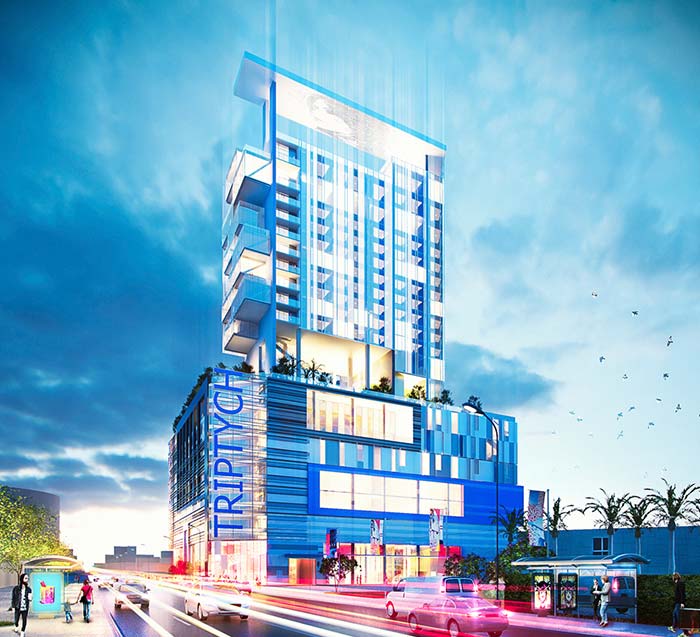 Miami–Hilton Worldwide recently announced that the Triptych Miami Design District, which is set to open in late 2017/early 2018, will be part of the Curio by Hilton collection. The hotel will join the ranks of the other 22 upscale Hilton Curio properties, including Hotel Phillips, which is also set to re-open in 2017, as Commercial Property Executive previously reported.
Triptych, the 530,000 square foot mixed-use project is located at 3601 North Miami Ave., at the intersection of Midtown Miami and Miami's Design District, close to Wynwood. The 20-story hotel will include 296 rooms, 60,000 square feet of exclusive office space and 40,000 square feet of premium retail space. Amenities include a number of food and beverage venues as well as a Sky Lobby with a pool deck, restaurant and bar, a rooftop deck with bar and lounge alongside a fitness center that will be open 24/7. Once completed, Triptych will become the only hotel in the Design District of Miami to boast an extensive gallery space for both locals and visitors to enjoy.
It will be the epicenter of fashion, art, design and business in Miami. The hotel will not only be a place for travelers to relax, but a place to connect with local businesses. Both the ground floor and second floor will showcase contemporary brands in its retail space. Office space will be available between floors three and six in shared concept style.
"The Curio brand is certainly supporting our vision to achieve a beautiful, functional, and cutting-edge project within a highly coveted location in Miami. By the time of opening, Triptych Miami Design District will stand out as its own iconic piece of art and creative destination," said in prepared remarks Francisco Arocha, CEO, managing partner and founder of HES Group.
The property will be within walking distance of the famed Wynwood District, home to over 70 galleries and annual high-profile art events such as Art Week, which attracts over 75,000 visitors. The Miami International Airport, American Airlines Arena, Marlin Park and Miami Beach are also within a ten-minute drive.
Triptych Miami Design District, Curio Collection by Hilton, is owned and operated by HES Group.