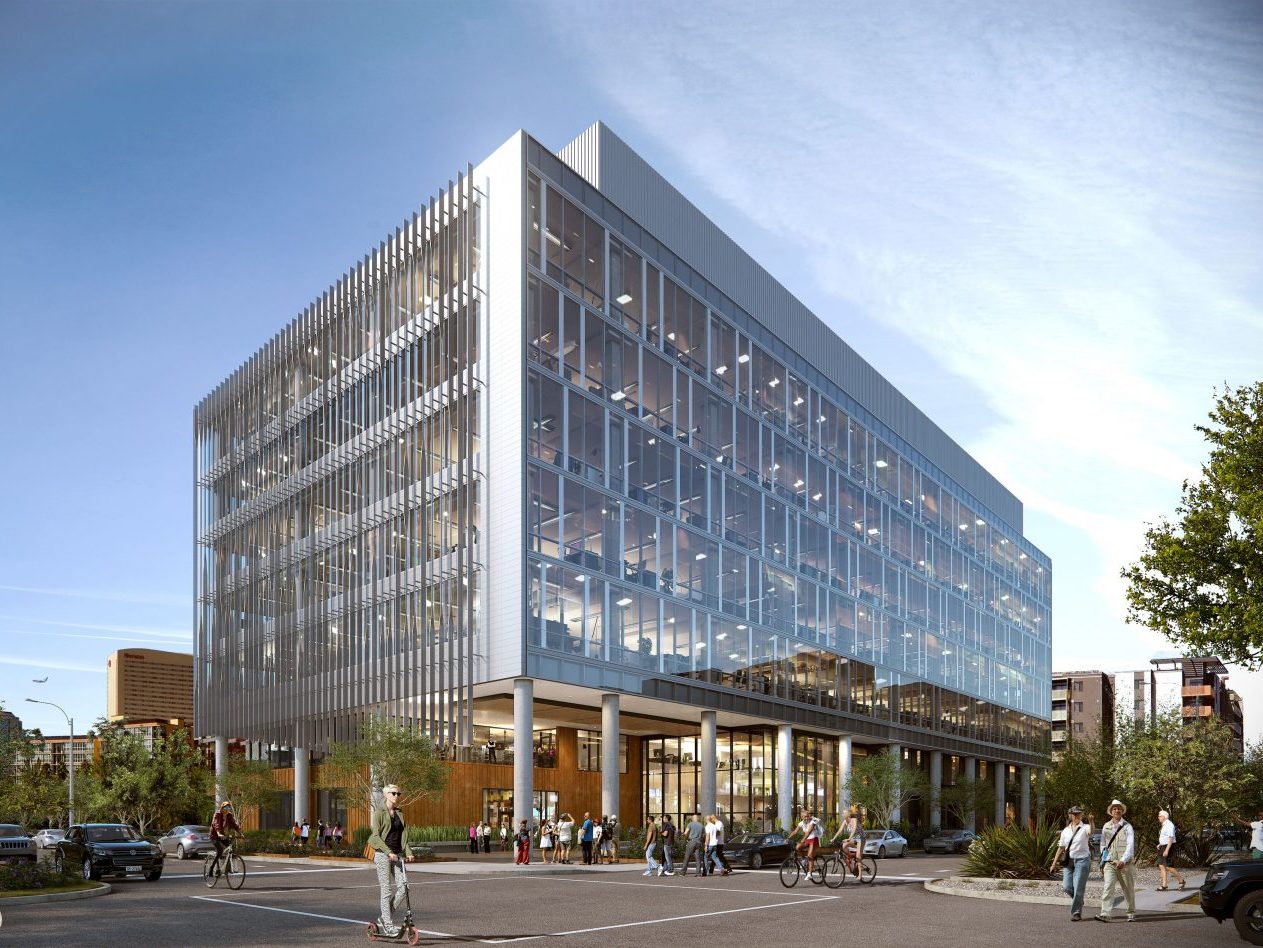 Wexford Science & Technology LLC has appointed Transwestern Commercial Services as leasing manager for the top three floors of Wexford Innovation Center, a 227,113-square-foot biomedical building underway in Phoenix. The $77 million development is owned by a public-private partnership that includes the City of Phoenix, Arizona State University, Wexford and Ventas. Okland Construction broke ground on the project in May 2019 and completion is slated for the fourth quarter of 2020.
Located at 850 N. Fifth St., within the 30-acre Phoenix Biomedical Campus, the development site is less than 1 mile southwest of Arizona State University's downtown Phoenix campus. The immediate area also holds the University of Arizona College of Medicine-Phoenix, the Center for Therapeutic Genomics and ASU College of Health Solutions.
Designed by HKS Architects, the Wexford Innovation Center building will feature seven floors. The university plans to occupy the first four floors and Transwestern is to lease floors five through seven, totaling 103,596 square feet. The top three floors will have higher-than-average ceiling heights and lab-enabled space.
Wexford Innovation Center will be Wexford's first Arizona building and part of the $1.5 billion Research & Innovation pipeline with Ventas. In June, Ventas announced its plans to invest $800 million in four university-related developments totaling more than 1.3 million square feet.
Inside Phoenix Biomedical Campus
TCS Managing Director Mark Stratz and Senior Vice President Scott Baumgarten are the leasing managers for Wexford Innovation Center. Upon completion, Phoenix Biomedical Campus will include seven buildings totaling more than 6 million square feet of research, academic and clinical facilities.
According to a University of Arizona recent study, the economic impact of the Phoenix Biomedical Campus is more than $1.3 billion per year. The campus has also created, directly or indirectly, more than 9,400 jobs in downtown Phoenix and Arizona, the study showed.