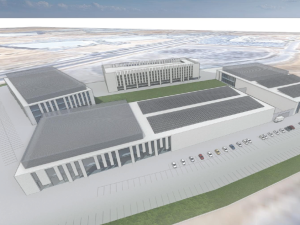 A few months after launching a new investment platform, Transwestern Ventures and the City of Vacaville have unveiled plans for a 390,000-square-foot biomanufacturing campus in Vacaville, Calif. Transwestern Real Estate Services sourced the land acquisition, which closed in an off-market transaction.
Spanning 22.4 acres, the project will be built in two phases. Phase I includes a 233,888-square-foot building slated for delivery in the summer. Phase II of the development will encompass a 158,316-square-foot building.
Both facilities have been designed to meet the needs of a variety of tenants, ranging from biomanufacturing and R&D firms to health-care and medical office users. The project is part of Vaca Valley Business Park, a 1.4 million-square-foot office and industrial campus, leased to tenants such as Agenus, Kaiser Permenente, Genetech and Polaris.
Located at the interchange of Interstate 80 and Interstate 505, the development offers convenient access both to Sacramento, Calif., and San Francisco, as well as California Biomanufacturing Center Inc., an organization dedicated to accelerating biomanufacturing growth.
Managing Director Ken Meyersieck, Senior Vice President Peter Conte, and Vice President Andrew Wheeler of the TRS Life Science team will oversee the leasing of the properties.
As one of the biomanufacturing leaders in the country, Vacaville is an attractive area for companies searching for facilities in a region with a shortage of available life science space, looking to capitalize on the affordability and strong economic and demographic trends, said Fred Knapp, managing partner of Transwestern Ventures, in prepared remarks.