By Barbra Murray, Contributing Editor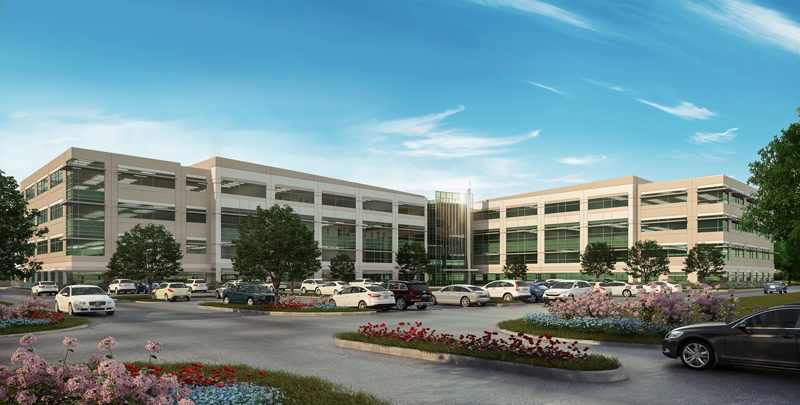 Houston's hot Energy Corridor submarket is getting hotter and Transwestern is responding to the growing demand with Westgate, a premier 660,000-square-foot office development on which the real estate company just broke commenced construction.
Transwestern is developing Westgate in a joint venture with Miller Global Properties L.L.C. on land that Transwestern purchased from Hearst Corp. in a transaction that closed September 13.  Designed by Powers Brown Architecture, the office campus will consist of three structures, well-positioned on approximately 21 acres along Interstate 10. Building I will feature 248,500 square feet, Building II will offer 186,000 square feet and Building III will encompass 225,000 square feet.  Each of the low-rise buildings will provide a dedicated multi-level parking facility. Additionally, Westgate has already been cleared to receive the U.S. Green Building Council's LEED Silver certification.
With strong regional economic growth–Houston's employment growth continues to outpace the American jobs market–Houston's office sector is consistently improving. The direct vacancy has been on a steady decline, dropping from 12.6 percent in 2009 to 10.9 in the second quarter of 2012, according to a report by Transwestern. The Class A segment is faring even better, recording a vacancy rate of 8.1 percent in metropolitan Houston and 3.4 percent for in the Energy Corridor.
In the Energy Corridor in particular–with $108 billion in proceeds in Houston in 2011, the energy sector accounted for 27 percent of the city's gross regional product–conditions are such that developers are initiating more and more new projects. Westgate will certainly have competition, but Transwestern is undaunted.
"We feel the campus layout, visibility and unique architectural elements will make the project stand apart. And, we'll be first to market in the Energy Corridor, which should provide a distinct advantage with today's tight space conditions," said Carleton Riser, Transwestern's managing director of development.