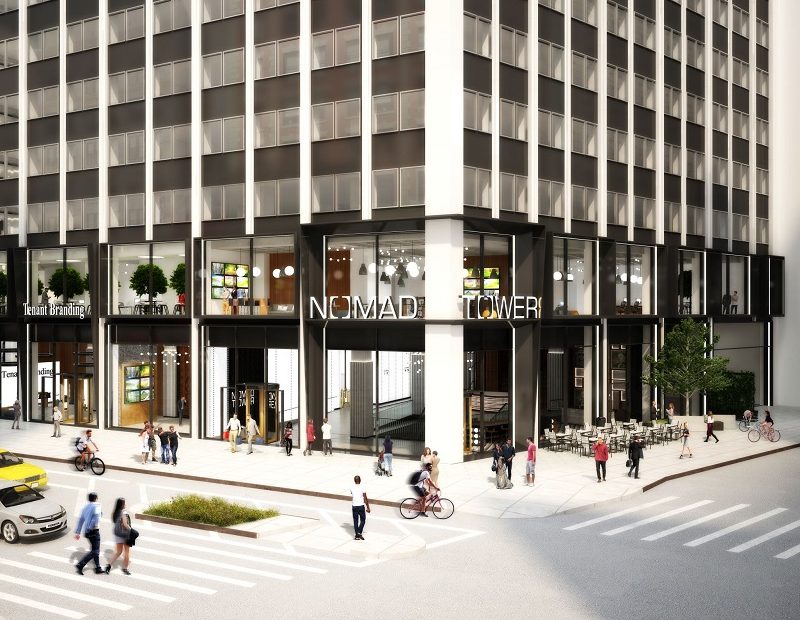 TransPerfect, the world's largest translation services and technology company, has signed a 15-year lease for 123,516 square feet of office space in Global Holdings Management Group's Nomad Tower at 1250 Broadway in Manhattan's Midtown South submarket.
The firm, which will relocate from 3 Park Ave., will occupy five full floors, including the fourth through seventh floors and the 32nd floor for its global headquarters. It will also have a private ground-floor lobby and entrance at the 727,000-square-foot Class A tower that is undergoing a $50-plus million capital improvement and rebranding program. The asking rent was $77.60 per square foot, according to Yardi Matrix data.
JLL, which was tapped by Global Holdings Management Group in February 2017 to handle leasing at the tower, completed the transaction. Representing Nomad Tower from JLL were: Paul Glickman and Mitchell Konsker, vice chairmen; Benjamin Bass, managing director; Diana Biasotti, senior vice president; and Harley Dalton, vice president. Craig Panzirer, senior vice president & director of leasing, represented Global Holdings Management Group in-house. TransPerfect was represented by John Isaacs and Christopher Mansfield, executive vice presidents, and Peter Gamber, financial analyst with CBRE Group Inc., along with Rob Kulic with Real Broker LLC.
"Nomad Tower is a market leading high-rise, glass and steel office tower located in one of New York's most vibrant neighborhoods," Glickman said in a prepared statement. "Nomad Tower offers tenants unparalleled access to in-building amenities, including a two-story amphitheater with seating for almost 100 people, and a multi-faceted, tenant-only amenity lounge."
TransPerfect is the second tenant to sign a major lease at the trophy tower since Global Holdings purchased the property in November 2016. Zillow Group leased 130,000 square feet in late 2018 at the building that is getting a new lobby due to open this quarter. The building also has a 150-vehicle indoor parking garage.
Phil Shawe, TransPerfect president & CEO, said 800 of the firm's worldwide team of 5,000 employees works in New York City.
"TransPerfect's commitment to growing our business in New York City is steadfast and resolute. To support that growth, we needed to choose a location for our headquarters that would provide us the space we need now and also the opportunity for future growth," Shawe said in a prepared statement. "We expect our staff will enjoy such benefits as close proximity to commuting options, having a centralized Midtown location from which to service clients, working in a trendy and up-and-coming neighborhood, and the buildings amenities, which fit well with our culture."
Building details
The 39-story tower was built in 1968 and designed by architects Shreve Lamb & Harmon. It is the tallest reinforced concrete building in Manhattan and has unobstructed, 360-degree views. The LEED Certified Gold building is also Energy Star certified and Wired Gold Certified, offering best-in-class broadband and fiber connectivity. Located within one block of Penn Station with access to the Long Island Railroad, Amtrak and NJ Transit, Nomad Tower is also a short walk to Grand Central Terminal and within two blocks of 12 subway lines. It also has direct access to the PATH lines.
Global Holdings, run by Israeli billionaire Eyal Ofer, acquired the office tower from Jamestown in November 2016 for $565 million. Located at the southeast corner of West 32nd Street, the glass-and-steel tower also has 8,000 square feet of ground-floor retail. It is the only trophy tower in the neighborhood and takes up the entire block of Broadway between 32nd and 31streets. The high-rise was nearly fully occupied upon the sale's closing, but its largest tenant at that time—the Visiting Nurse Service of New York—vacated about 320,000 square feet in December.
Image courtesy of JLL