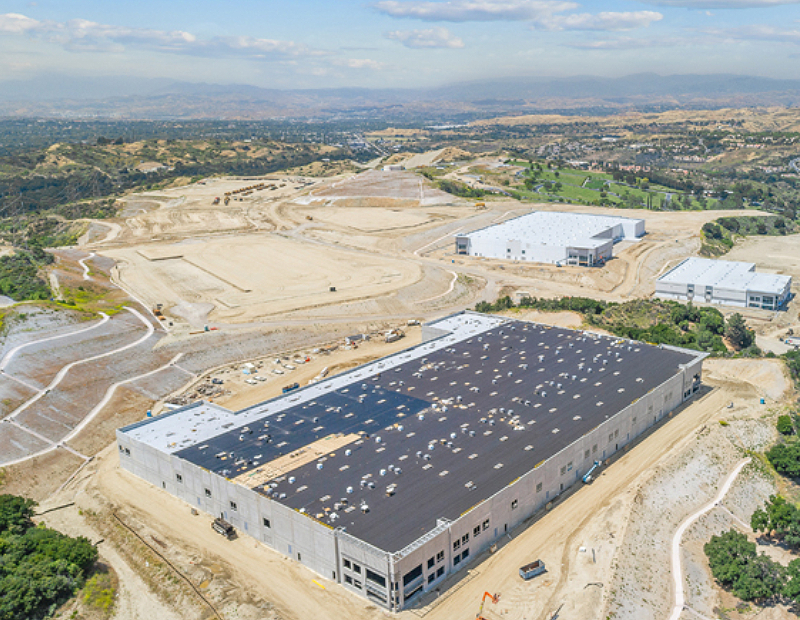 Trammell Crow Co. and Clarion Partners have begun construction of Phase 1B of The Center at Needham Ranch, a 54-acre business park in Santa Clarita, Calif. The property will be situated on 132 acres and will include three Class A industrial buildings totaling 418,000 square feet.
"We are continuing delivering of very high-quality Class A industrial product into a market with a severe lack of supply," John Balestra, TCC's principal, told Commercial Property Executive. "There are a significant number of occupiers seeking best in class product with very few alternatives, so there is a strong market demand for delivery of new supply."
The three new buildings will encompass the 194,188-square-foot Building 4, the 126,439-square-foot Building 5 and the 97,357-square-foot Building 6. The latter property will have 30-foot minimum clear heights, while the other two will offer 36-feet heights. The trio of buildings will include ESFR fire sprinklers, 120-inch minimum truck court depth and abundant dock high loading with large truck courts.
Construction of the business park is expected to be completed by year's end. CBRE's Craig Peters and Doug Sonderegger will serve as leasing agents for the property.
Loving LA
The Center at Needham Ranch is just 1 mile north of the City of Los Angeles boundary, situated at the southern entrance to the City of Santa Clarita. According to TCC data, the Greater Los Angeles North submarket is characterized as a mature, supply constrained market with less than 4 percent of the existing 180 million-square-foot industrial base being considered Class A space.
"The market is significantly under-supplied, particularly for modern Class A product with features such as 30-foot minimum clear height, ESFR fire sprinklers and abundant truck loading and car parking," Balestra said. "This next sub-phase of the project will help meet that need and we are already entertaining a high level of occupier interest in this next sub-phase of development."
With immediate proximity to Highway 14 and situated less than 1 mile from Interstate 5, the project's location is at the southerly most part of the City of Santa Clarita, immediately adjacent to the San Fernando Valley. More so, the project is located in the City of Santa Clarita, which offers a high quality of life with a significantly lower cost of doing business compared to nearby locations in the City of Los Angeles and neighboring communities.
"This offers convenient access to more than 5 million people within a 30-minute drive, tremendous access to a highly skilled workforce and dense consumer population with a reverse commute advantage," Balestra said. "Additionally, the project is located in a unique park-like setting, surrounded by thousands of acres of permanent open space with breathtaking views."
With a historically low vacancy rate of 1.5 percent in the Los Angeles North industrial market and extremely limited availability of true Class A space, there are simply few alternatives in the market, according to Balestra.
In May, Trammell Crow Co. signed law firm Rutan & Tucker LLP to a 10-year, 72,000-square-foot lease at The Boardwalk, a two-tower, 550,000-square-foot Class A office project in Irvine, Calif.