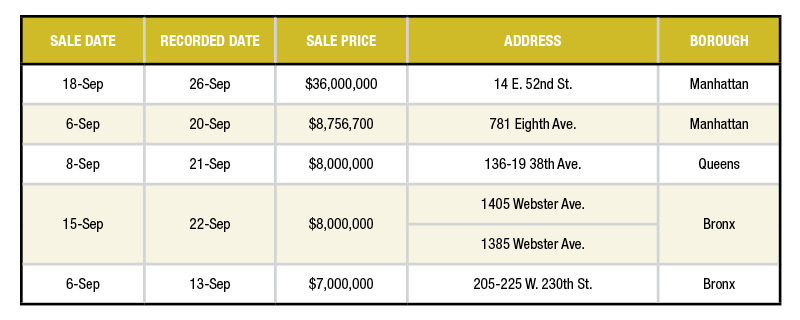 14 E. 52nd St., Manhattan
Sale Price: $36,000,000
Purchased by Inmoprisa Usa Inc., this seven-story asset features 15,556 square feet of retail and 6,220 square feet of office space. Situated in Central Midtown, the property is located within close proximity to the orange, blue and green subway lines. The building, constructed in 1930 and most recently upgraded in 1998, is home to Pronovias, a bridal shop.
781 Eighth Ave., Manhattan
Sale Price: $8,756,700
Housing two commercial units totaling 5,346 square feet, this four-story building was acquired by Manhattan Octagon LLC and sits right atop the blue E subway line.
136-19 38th Ave., Queens
Sale Price: $8,000,000
Built in 1966, the asset features four stories and was last altered in the year 2000. The three commercial units within the building offer a total of 9,000 square feet. Located in downtown Flushing, the property was purchased by Hailan Holding LLC.
1405 Webster Ave., Bronx
Sale Price: $8,000,000
Sold along with 1385 Webster Ave., this one-story building is home to G & J Deli Grocery and Glorycar & Limo. Offering three commercial units and a total of 5,625 square feet of space, the asset was constructed in 1931 in the neighborhood of Mount Eden.
205-225 W. 230th St., Bronx
Sale Price: $7,000,000
This one-story Kingsbridge property features five commercial units. Offering 8,215 square feet, the building was constructed in 1951 and is home to an Asian food market and discount store.