Top 5 retail space sales recorded in July 2017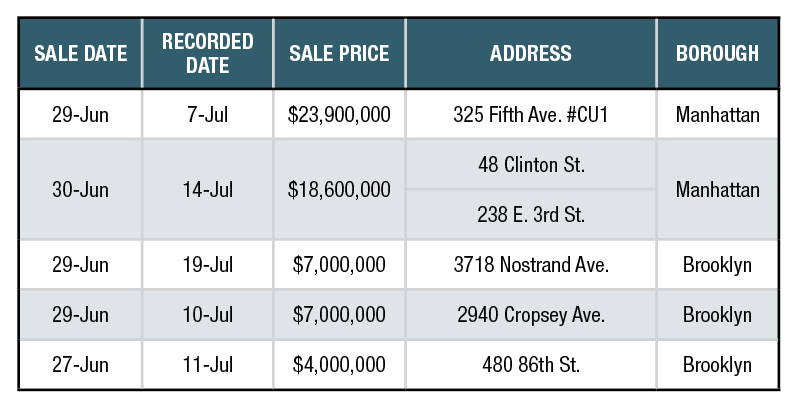 325 Fifth Ave., #CU1, Manhattan
Sale Price: $23.9 million
Built in 2005, this 41-story tower offers two commercial units in the NoMad district in Midtown. Situated within close proximity to the green, orange and yellow subway lines, the portion that sold offers 5,882 square feet of space.
48 Clinton St., Manhattan
Sale Price: $18.6 million
Sold along with 238 E. Third St., the two-and-a-half-story building features two commercial and two residential units. The residential portion totals 2,075 square feet, while the retail use encompasses 4,450 square feet. Last altered in 1998, the asset is located on the Lower East Side.
3718 Nostrand Ave., Brooklyn
Sale Price: $7 million
The one-story retail building was last altered in 2014 and is currently home to Advance Auto Parts. Featuring 14,000 square feet across two commercial units, the Sheepshead Bay asset was built in 1958.
2940 Cropsey Ave., Brooklyn
Sale Price: $7 million
Purchased by Quickfoot Realty LLC, this property houses a Burger King. Built in 1974 and last altered in 2016, the one-story restaurant offers 4,128 square feet. The asset is located in the neighborhood of Gravesend, near Coney Island.
480 86th St., Brooklyn
Sale Price: $4 million
Home to a shop dubbed "Nothing Fits!," the three-story property features 3,420 square feet of retail space. Located in Bay Ridge, the 1923-built asset was purchased by Prime 85 Holdings LLC and sold at a price per square foot of $1,169.
Top 5 office building sales recorded in July 2017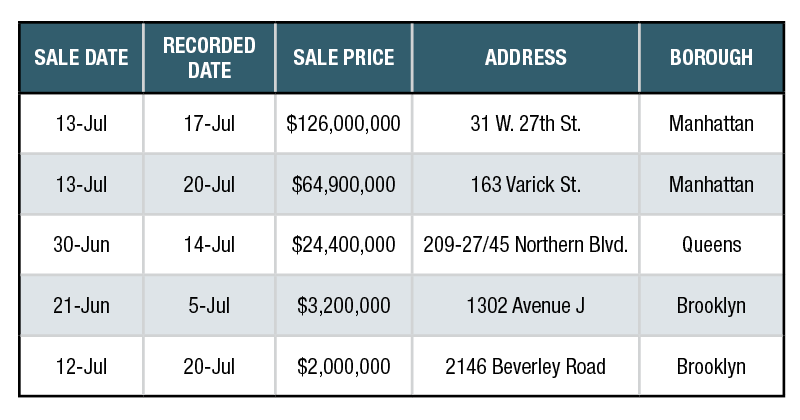 31 W. 27th St., Manhattan
Sale Price: $ 126 million
Offering 15 commercial units on 12 levels, this building features both 96,800 square feet of office and 10,000 square feet of retail space. Located in the Madison Square North Historic District, the property offers close access to the yellow and orange subway lines. The asset was built in 1910 and last altered in 1987.
163 Varick St., Manhattan
Sale Price: $64.9 million
Purchased by a joint venture between APF Properties and Drake Street Partners, this six-story building features eight commercial units. The asset comprises 30,000 square feet of office, 15,000 square feet of retail and 6,000 square feet of factory space in the Hudson Square submarket of Manhattan. Recently, CBRE was chosen by the joint venture to secure $73.4 million in acquisition and redevelopment financing for the property. It will be rebranded as 60 Charlton St. and transformed into a mixed-use Class A office building that will feature ground-level retail. The total square footage of the property will reach 100,000 square feet upon completion.
209-27/45 Northern Blvd., Queens
Sale Price: $24.4 million
Owned by Garden Plaza Management LLC, the property features two levels comprising office, retail and garage space. Its 25 commercial units are divided among 15,542 square feet of office, 9,323 square feet of retail and 15,812 square feet for a garage. Built in 2013, the Bayside-located asset was purchased for $599 per square foot.
1302 Avenue J, Brooklyn
Sale Price: $3.2 million
Home to Santander Bank, the 7,000-square-foot building offers both office and storage space. Built in 1927 and last altered in 1982, the one-story asset was purchased by Sonoma Realty LLC for $457 per square foot.
2146 Beverley Road, Brooklyn
Sale Price: $2 million
A standalone funeral home, the 1974-built property features one commercial unit at 3,300 square feet. Located in Flatbush, the asset was last altered in 1998 and includes one-and-a-half stories.