3350 Park Ave., Bronx
Sale Price: $64,000,000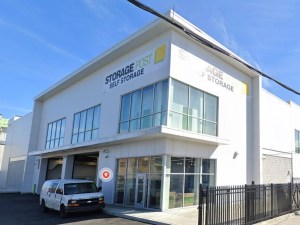 Madison Development sold the two-story self-storage facility totaling 138,600 square feet in Morrisania to Storage Post. The new owner funded the acquisition with a $48.8 million loan originated by JPMorgan Chase. The 2018-built property on more than 2 acres features climate-controlled units, a digital security system and offers daily access, among others, according to the property website.
45 Clinton Ave., Brooklyn
Sale Price: $58,600,000
Cayre Equities sold the 66,633-square-foot self-storage in Clinton Hill along with the 79,077-square-foot 1654 Bushwick Ave. in Bushwick to Brookfield Properties. The two former Treasure Island Storages were rebranded as Life Storage. The Clinton Avenue property was originally built in 1920 and converted to its current use in 2007, while the Bushwick Avenue structure was completed in 2021.
429 W. 36th St., Manhattan
Sale Price: $51,740,000
Extell Development sold the warehouse totaling 9,890 square feet in Hell's Kitchen as well as the parking structure at 430 W. 37th St. and the adjoining lot at 434 W. 37th St. The new owner, developer ZD Jasper Realty, secured a $35 million financing package originated by BridgeCity Capital. The three parcels offer a combined allowed usable floor area of 118,889 square feet.
300 Sheffield Ave., Brooklyn
Sale Price: $31,400,000
Heitman Capital Management sold the self-storage warehouse in East New York to Brookfield Properties. The new owner funded the acquisition of the property as well as the purchase of the two self-storages sold by Cayre Equities mentioned above with a $56.3 million mortgage funded by Wells Fargo Bank. The newly rebranded Life Storage offers climate controlled units and 24/7 surveillance.
125 Third St., Brooklyn
Sale Price: $21,600,000
Property Markets Group sold the single-story building totaling 1,600 square feet in Gowanus. Maxim Capital Group provided a $16 million acquisition and predevelopment loan. The narrow lot encompassing 9,175 square feet has a 31,562-square-foot allowed usable floor area. The property is within walking distance of Gowanus Waterfront Park and some 2 miles of downtown Brooklyn.