Top 5 Markets for Office Transactions
Investment sales in these markets accounted for 34 percent of the nation's total, CommercialEdge shows.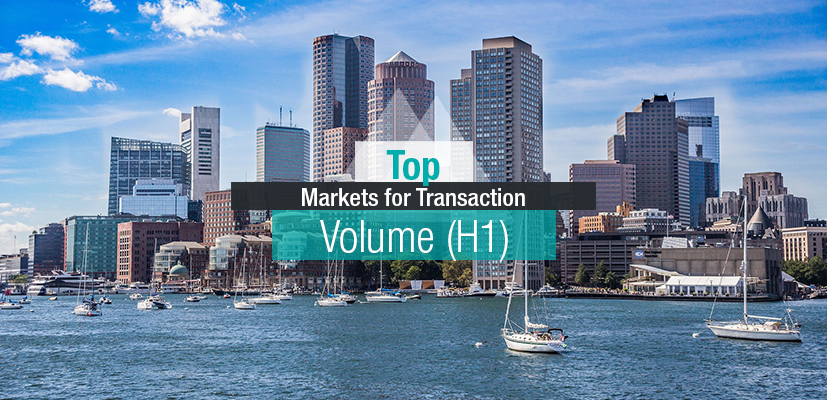 A total of $33.1 billion worth of office transactions encompassing 119.8 million square feet closed in the first half of 2021, according to CommercialEdge data. This marked a modest, 5.4 percent increase from the same time last year, when investment volume totaled $31.4 billion.
CommercialEdge put together a list of the five markets with the highest levels of office investment between January and June 2021. Volume in these markets added up to 34 percent of the nation's total. While markets such as Seattle emerged as hotspots for post-pandemic office investment, gateway markets including Boston or Manhattan recorded some of the biggest drops in sales volume—yet still attracted significant capital.
| | | | | |
| --- | --- | --- | --- | --- |
| Rank | Market | Transaction Volume ($MM) | Total Sales | Price PSF |
| 1 | Bay Area | 3,389.1 | 58 | $503.68 |
| 2 | Boston | 2,303.0 | 36 | $487.81 |
| 3 | Manhattan | 2,119.6 | 12 | $1,201.50 |
| 4 | San Francisco | 1,934.0 | 16 | $730.56 |
| 5 | Seattle | 1,604.5 | 37 | $465.97 |
5. Seattle
Investments in Seattle totaled $1.6 billion in the first half of 2021. This figure is an increase of nearly triple compared to the same period in the previous year, the steepest jump on our list. A total of 3.4 million square feet changed hands at an average of $465.97 per square foot.
In one of the largest deals, a joint venture between KKR and local developer Urban Renaissance Group acquired a 770,000-square-foot, Amazon-occupied landmark office building in Seattle's retail core. The former Macy's flagship store traded for $579.4 million. The acquisition represented KKR's fourth investment in the Puget Sound region.
4. San Francisco
Investors closed 16 deals in San Francisco this year through June for a total of $1.9 billion, marking a 52.5 percent increase from the same time in 2020. The average price per square foot in the metro was $730.56, as San Francisco holds its position as one of the most expensive markets in the nation.
In March, Kilroy Realty Corp. agreed to sell the 750,000-square-foot Exchange on 16th. The buyer, KKR, signed a contract to pay $1.08 billion for the property—which, at $1,440 per square foot, is the highest price per square foot ever paid for any office asset in the market. Goldman Sachs originated a $600 million CMBS loan to fund the acquisition. The structure, developed between 2015 and 2019, is anchored by Dropbox.
3. Manhattan
A total of 12 properties encompassing close to 1.8 million square feet changed hands in Manhattan over the first six months of 2021, for a combined $2.1 billion. That represents a 36.7 percent decline in sales volume from the same period last year. The average price per square foot stood at $1201.50, making the borough the most expensive office market in the nation.
The market's largest office sale was The 601W Cos.' $952.5 million January acquisition of the 638,000-square-foot 410 10th Avenue from an SL Green Realty Corp. joint venture. In a separate deal in June, SL Green sold 641 Avenue of the Americas to Spear Street Capital for $325 million.
2. Boston
Transaction volume in Boston totaled $2.3 billion between January and June this year, 37.5 percent less than the $3.7 billion recorded in the same period last year. The deals involved 36 properties totaling 4.7 million square feet, a dramatic drop from the 7.8 million square feet sold in the first half of 2020.
In one of the largest deals across the metro, Alexandria Real Estate Equities paid nearly $1.2 billion for 401 Park, a 952,005-square-foot asset in the Fenway submarket. The seller, Samuels & Associates, paid $530.5 million for the property just a decade earlier. The 14-story building was built as an industrial facility in 1929, later converted into office and retail space in 2000.
1. Bay Area
Transaction volume over the first half of 2021 totaled $3.4 billion in the Bay Area, up 78.7 percent from the same interval last year. A total of 58 properties totaling 6.7 million square feet traded at an average of $503.68 per square foot.
In the metro's largest transaction between January and June, Mapletree US Management paid $419 million for Uptown Station, a Class A creative office and retail building in Oakland, Calif. The seller was CIM Group, which was also involved in a nationwide, $1.3 billion sale of office, industrial and retail space to Griffin Realty Trust in March.