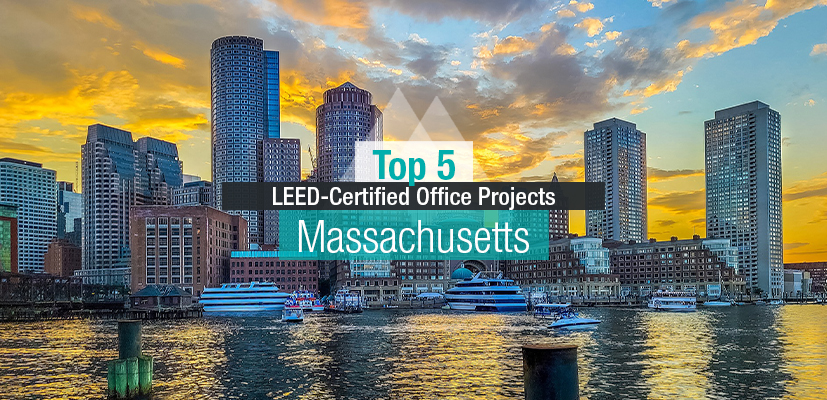 Although during the past two years homes had to wear many hats, functioning as offices on top of living quarters, the office sector has not remained idle. Perhaps preparing for an anticipated return to the office, office owners and developers invested in environmentally friendly features at their assets to encourage tenants to retain their locations and employees to embrace a hybrid work model.
According to data from the U.S. Green Building Council, Massachusetts occupied the fifth rank among U.S. states in 2021, with 10.4 million square feet across 36 projects certified and recertified to a LEED level. The highest recognition—LEED Platinum—was awarded to four properties, which combined a total 720,000 square feet, LEED Gold went to 20 projects (7.5 million square feet), LEED Silver to eight properties (1.7 million square feet) and four properties, totaling 462,000 square feet, received the basic LEED certification.
In this list, we are presenting some of the largest projects across the state based on data from the USGBC. All projects in this ranking received the LEED Gold (re)certification; the LEED Platinum awarded buildings were of smaller sizes.
| | | | | | |
| --- | --- | --- | --- | --- | --- |
| Rank | Property Name | Project Address | Gross Area Sq Ft | Certification Date | Rating System |
| 1 | 125 High | 125 High St. | 1,511,250 | 5/3/2021 | LEED-EB:OM v2009 |
| 2 | 100 Summer | 100 Summer St. | 1,113,465 | 12/1/2021 | LEED v4.1 O+M: EB |
| 3 | 99 High | 99 High St. | 731,205 | 5/14/2015 | LEED-EB:OM v2009 |
| 4 | 33 Arch | 33 Arch St. | 603,309 | 2/10/2021 | LEED-EB:OM v2009 |
| 5 | One Channel Center | 169 A St. | 501,650 | 5/7/2021 | LEED-EB:OM v2009 |
1. 125 High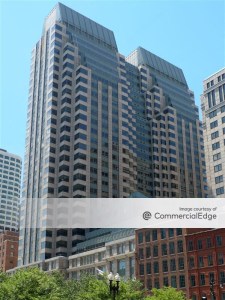 Standing 30 stories high in Boston's Financial District, a five-minute walk to Seaport and a 10-minute drive to Logan Airport, 125 High totals more than 1.5 million square feet across three distinctive towers connected by a central atrium lobby space, designed by Jung Brannen Associates and completed in 1991.
Tishman Speyer's asset was recertified to the LEED Gold level in May 2021, with a scorecard of 63 points. The historic tower was reimagined for the modern workforce as a full-service coworking environment with included IT support and networking opportunities. Tenants have access to wellness programs, food and prescription medicine delivery, lounge space on the sixth floor equipped with adaptable workspaces and a rooftop deck with an outdoor terrace. Moreover, the project has a fitness center and a café store, and new retail spaces are slated to open on the ground floor.
Notable tenants include Goldman Sachs, Tishman Speyer, Bank of America, Barclays, GID, Wells Fargo and Morgan Stanley, according to Commercial Edge.
2. 100 Summer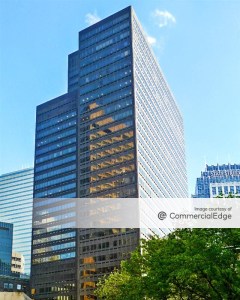 The 33-story building that stands out with bronze-tinted windows totals more than 1.1 million square feet in downtown Boston, a two-minute walk from South Station. Welton Becket Associates designed it in a U-shape footprint to accommodate a small public plaza, and completion was reached in 1974.
The lobby's renovation finalized in 2019, when Rockpoint Group acquired it for $806 million, according to Commercial Edge data. The property earned the LEED Gold certification in December with a scorecard of 69 points. It offers electric vehicle charging stations and car detailing services, as well as private security storage for bicycle commuters. In addition, 100 Summer's amenity package includes a coffee bar, gaming areas and a fitness center.
Notable tenants include Bloomberg, State Fund Insurance, WeWork and SimpliSafe.
3. 99 High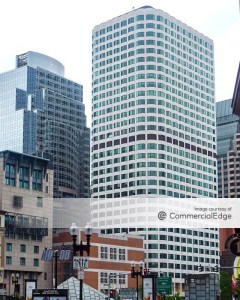 Formerly known as the Keystone Building, this 32-story, 731,205-square-foot high-rise is also located in downtown Boston. Completed in 1971, the property displays the design of architect Pietro Belluschi and Emery Roth & Sons.
This project, too, underwent a renovation that ended in 2019, having its interior lobby redesigned as well as the glass façade and streetscape. In November, the USGBC recertified the Nuveen Real Estate asset to the LEED Gold level, with a scorecard of 63 points. The pursuit of operational efficiency and environmental responsibility began in 2006 when Nuveen assumed ownership (then called TH Real Estate).
Notable tenants include CBRE, WeWork, Wolf & Co., the U.S. General Services Administration and Citizens.
4. 33 Arch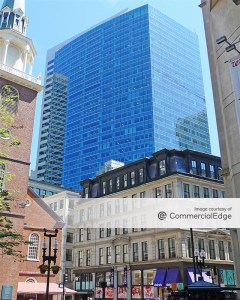 One of the newest of the properties on this list, 33 Arch was completed in 2004 and bridges Boston's Downtown Crossing to the Financial District. The 33-story, 603,309-square-foot tower was designed by Elkus Manfredi Architects.
Under Nuveen Real Estate's ownership since 2011, the asset features a recently upgraded lobby, on-site bike storage and several bike rental docks. The latest LEED Gold certification was awarded in February 2021, with a scorecard of 65 points. In addition to USGBC's designation, the property was also granted BOMA 360 Performance for mastering industry best practices across six distinct areas of building management and operations.
Notable tenants include the U.S. General Services Administration, the U.S. Securities and Exchange Commission, WeWork and CBRE.
5. One Channel Center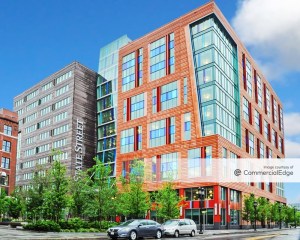 Part of the 7-acre Channel Center master plan in the Seaport District, One Channel Center is an 11-story, 501,650-square-foot property, completed in 2014. The project was designed by ADD Inc.
The most recent LEED Gold award dates to May 2021, with a scorecard of 72 points. Green elements at One Channel Center include continuous insulation on façades, efficient mechanical systems (HVAC), recycled and local materials and low VOC materials that improve indoor air quality.
Since 2015, the asset has been part of Tishman Speyer's portfolio.