Top 5 Industrial Properties Under Construction in Dallas-Fort Worth
The market is the most active nationwide, the latest CommercialEdge data shows.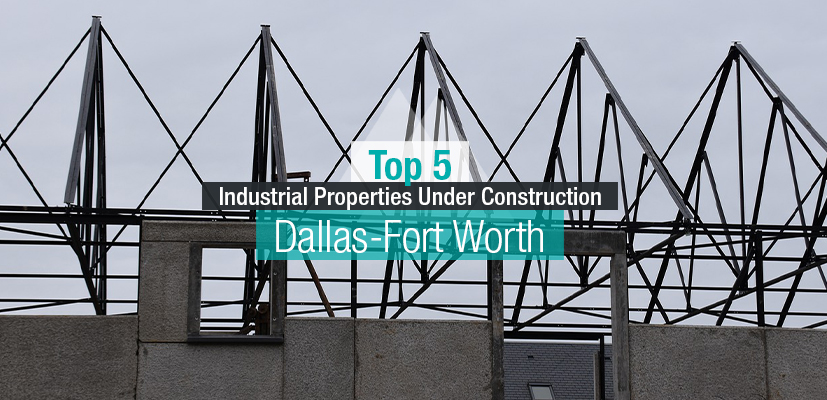 Industrial developments continue to move forward at a rapid pace: CommercialEdge data shows that 193.7 million square feet of projects delivered year-to-date through August, with another 500 million square feet underway. Despite the swell in development nationwide, demand shows no sign of letting up, pushing rents up by 3.8 percent over the year.
---
READ ALSO: Industrial Pricing Soars
---
The Dallas-Fort Worth market had the largest share of industrial development underway nationwide, with 34.1 million square feet under construction at the end of August, or 4.2 percent of inventory. The metro has benefited from large expanses of developable land in addition to a surge in demand as major companies expand or relocate to the Metroplex.
The table below highlights the five largest industrial projects underway in the Dallas-Fort Worth market at the end of August. Although speculative development in the metro is widespread, notably four of the properties on our list are build-to-suit projects.
| | | | | |
| --- | --- | --- | --- | --- |
| Rank | Property Name | Total SF | Owner | Anticipated Completion |
| 1 | Midlothian Business Park – Sunrider International Facility | 1,100,000 | Sunrider International | 01/2022 |
| 2 | DalPort Trade Center – Building G | 1,021,601 | JLA Home | 11/2021 |
| 3 | 3001 Midpoint Drive – DSV Regional Warehouse | 1,010,351 | DSV | 12/2021 |
| 4 | Carter Park East – Building 4 | 1,000,000 | Crow Holdings, Clarion Partners | 03/2022 |
| 5 | Fort Worth I-35 Logistics Center – Building 1 | 861,900 | Ascendant Commercial | 11/2021 |
5. Fort Worth I-35 Logistics Center – Building 1
The first building at Ascendant Commercial's 861,900-square-foot Fort Worth I-35 Logistics Center ranks fifth on our list. Work on the project began in February, with delivery anticipated by the end of this year. The speculative project, designed by Halff Associates, will have 40-foot clear heights and 185-foot truck courts, along with 26 loading doors.
Located on the western side of Interstate 35W, the structure is the first and largest of three buildings to rise on nearly 120 acres some 13 miles south of downtown Fort Worth. The other two, still in planning stages, will bring an additional, combined 1.3 million square feet once delivered.
4. Carter Park East – Building 4
Crow Holdings and Clarion Partners' 1 million-square-foot Building 4 at Carter Park East in Fort Worth broke ground in July this year, marking the metro's fourth-largest industrial project underway. Located on 270 acres at 1500 Oak Grove Road, the build-to-suit project is fully leased to HomeGoods, which will use the facility as a regional distribution center.
Rob Riner Cos. is heading up the development team for the entire 556-acre park, which is planned to have more than 6 million square feet at full build-out. In addition to HomeGoods' facility, two spec buildings—one with 549,780 square feet, the other with 323,570 square feet—are under construction. Stream Realty Partners is overseeing leasing efforts for the park.
3. 3001 Midpoint Drive – DSV Regional Warehouse
DSV International, a Dutch logistics firm, began construction on a 1 million-square-foot distribution hub in Lancaster this past December. Once complete later this year, the property at 3001 Midpoint Drive will serve as the company's regional headquarters. O'Brien Architects designed the project and EMJ Construction is the general contractor.
The project, valued at $65 million, will have secured, 195-foot truck courts with close to 200 trailer parking spaces as well as a three-story, 50,391-square-foot office component, with an additional 9,000 square feet of satellite office buildings. DSV plans to sell the facility, some 10 miles south of downtown Dallas, marketing it through JLL as a sale-leaseback opportunity. The shipping company intends to employ more than 400 workers on-site.
2. DalPort Trade Center – Building G
In April, Panattoni Development Co. broke ground on Dalport Trade Center's Building G, a 1 million-square-foot project in the southern Dallas suburb of Wilmer. The development has an estimated price tag of $37.6 million and is a build-to-suit for owner JLA Home, a home furnishings supplier. Pross Design Group is the distribution center's architect, with general contracting services from Alston Construction.
Slated for delivery later this year, the development occupies more than 80 acres at 2101 S. Millers Ferry Road, 15 miles southeast of downtown Dallas. The full, 239-acre master-planned development is alongside Interstate 45 and is home to a number of major brands, including Procter & Gamble and Whirlpool.
1. Midlothian Business Park – Sunrider International Facility
The largest industrial property under construction in the Dallas-Fort Worth metro is Sunrider International's upcoming production facility in Midlothian. The health and wellness product manufacturer plans to shift its manufacturing, research and development operations from its headquarters in Torrance, Calif.
Sunrider plans to employ more than 200 workers at the two buildings, once completed early next year. The property will be the first delivery at the 175-acre campus. Another tenant, Vision Engineering, will occupy an upcoming, 40,000-square-foot facility. McIver Properties has proposed two final buildings—one with 52,000 square feet, the other with 27,000 square feet—to round out the development.