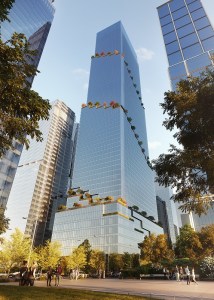 Tishman Speyer has secured a new tenant at The Spiral, a 65-story mixed-use tower under construction in Manhattan. NewYork-Presbyterian has signed a 20-year lease for 75,000 square feet, where it will operate an outpatient spine center taking up the whole second floor. With the current deal, the office building totaling 2.8 million square feet is now 70 percent preleased.
The Och Spine outpatient center will offer surgical and non-surgical spine care and will include radiology and procedure rooms, a physical therapy facility as well as a collaborative area for physicians and specialists. The outpatient center will have an exclusive lobby accessible from 35th Street.
In a similar vein in February, The Hearn Co. announced plans to convert four floors of its million-square-foot office tower in Chicago's CBD for medical office use. Mag Mile Medical Pavilion will occupy 130,000 square feet there.
Building a Class A+ tower in Manhattan
For the construction, Tishman Speyer secured a more than $1 billion loan originated by the New York City Industrial Development Agency. The developer also gained the 1.5-acre site at 66 Hudson Blvd., through a 30-year PILOT ground lease held by the New York City Industrial Development Agency, CommercialEdge data shows. The tower is expected to come online in late 2022.
Designed by BIG-Bjarke Ingels Group to achieve LEED Silver certification, the Class A+ tower will feature floorplates between 35,282 and 75,423 square feet and will also include retail space across six floors.
Notable tenants include biopharmaceutical giant Pfizer, which will relocate its global headquarters to the tower occupying 746,000 square feet, law firm Debevoise & Plimpton LLP, which signed a lease for 531,000 square feet, a 166,000-square-foot space will be home to AllianceBernstein and HSBC will relocate its headquarters to the 29th and 30th floors totaling 265,000 square feet.
At the end of March, Manhattan had a 14.4 percent office vacancy rate, below the national average of 15.9 percent, CommercialEdge data shows. In April, three tenants signed lease extensions at 535 Madison in the borough's Plaza District, fully leasing the 37-story high-rise.