By Alexandra Pacurar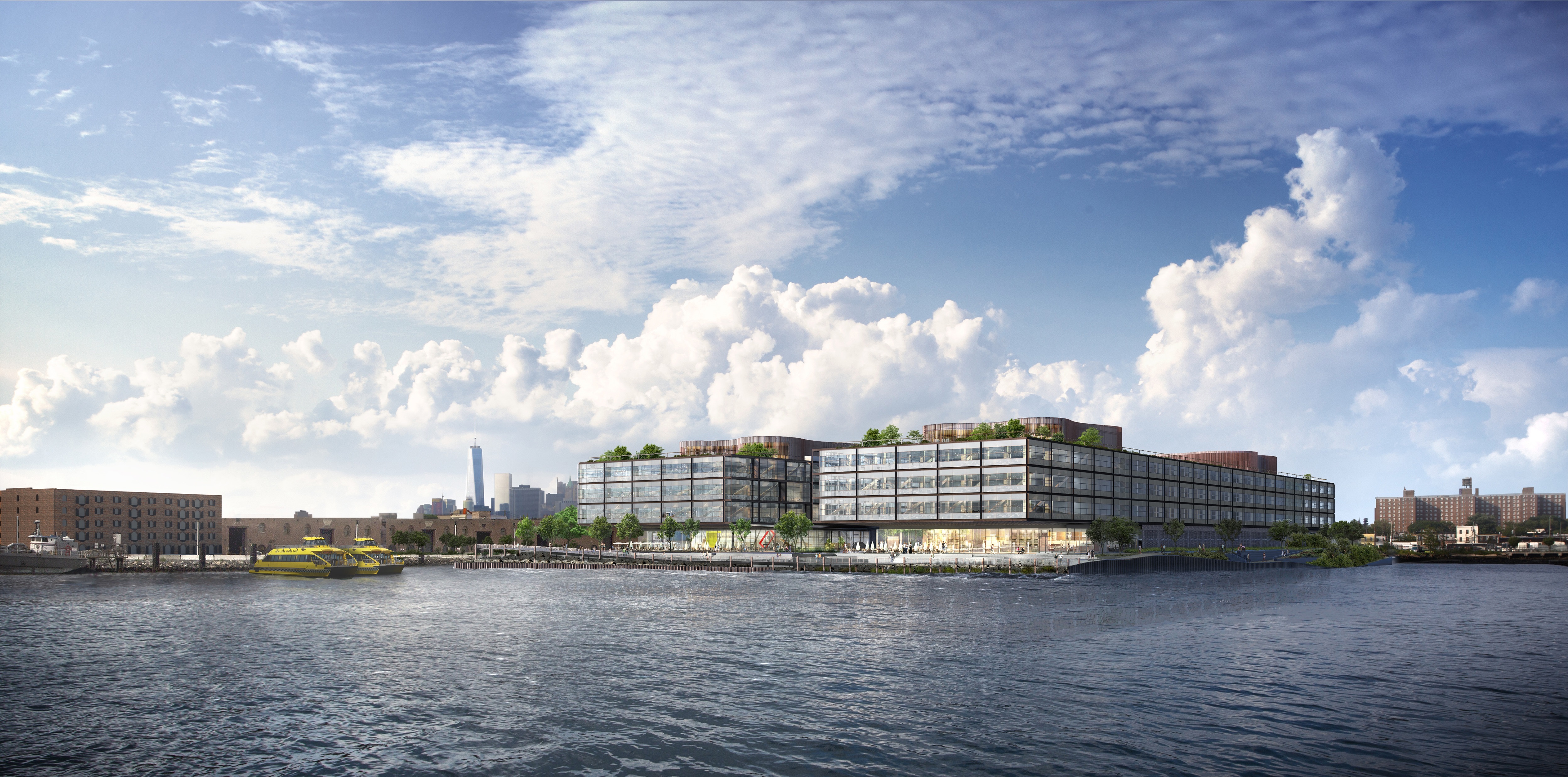 New York—Thor Equities is set to expand its array of cutting edge commercial developments with a new waterfront office complex that will be built on a 7.7-acre property in Red Hook, Brooklyn. The development was designed by Foster + Partners and is scheduled to break ground this summer. The new campus will include two heavy timber frame buildings offering 600,000 square feet of office space and an extra 23,000 square feet for retail and restaurants.
The design features open floorplates of approximately 100,000 square feet and a public esplanade with clear views of the Statue of Liberty and Lower Manhattan, as the property is surrounded by water on three sides. "We are excited to present this unique new development, which will expand public access to the Red Hook waterfront, and provide an environmentally friendly and innovative environment for businesses operating in the creative and technology sectors in New York," said Joseph Sitt, CEO of Thor Equities.
The campus will fit the needs of a TAMI (technology, advertising, media and information) tenant and will feature roof terraces and a green courtyard. "Situated along the Brooklyn waterfront, the design pulls its natural surroundings into the site with a promenade, roof terraces and a green courtyard bisecting two low-rise building blocks. The design references the area's industrial heritage, respecting the scale of the neighborhood, while creating flexible, innovative workspaces that will support new collaborative ways of work," Nigel Dancey, senior executive partner at Foster + Partners said in a prepared statement.
The development is conveniently located near IKEA and Erie Basin Park and offers easy access to public transport which includes a ferry service, buses and a planned shuttle that connects the area to Smith-Ninth Streets, Fourth Avenue/Ninth Street and Court Street-Borough Hall stations. Another option would be the Brooklyn-Queens streetcar which will also serve the neighborhood. The project will add to the charm of Red Hook which has an industrial background, but is now a hip, artsy area full of boutiques, restaurants, museums, nightlife, retailers and art studios.
Image courtesy of Thor Equities